Chip off the ol' block? Historian Paul Beaver's granddaughter excels in history

Send a link to a friend
[May 09, 2012] Last week the 27th annual Illinois History Expo at the Prairie Capital Convention Center in Springfield featured a prize-winning school history project by a granddaughter of a Logan County historian, Paul Beaver, Lincoln College professor emeritus.
Lauren O'Donnell, daughter of John and Amy Beaver O'Donnell of Downs and granddaughter of Paul and Sue Beaver of Lincoln, along with a classmate, Ashley Carr -- both seventh-graders at Tri-Valley Middle School -- made two models of the Mount Pulaski Courthouse. One shows the courthouse as it was in the early 1850s (and since renovated in 1936 to look that way), and the other shows the building as a schoolhouse from 1857 to 1877. The girls won their school competition; the regional competition, when they represented the McLean County Historical Society at Eastern Illinois University; and then last week's Illinois Supreme Court Historic Preservation Commission competition in Springfield.

This thrice award-winning research project and display is now being exhibited at Springfield's Union Station Visitors Center, where the "Hometown Travelers" campaign, May 5-13, is featuring information on local and state attractions, such as Mount Pulaski and Metamora, which have the last two remaining Illinois 8th Judicial Circuit courthouses as they appeared on the circuit in the 1840s through the 1850s. While the courthouse at Mount Pulaski lost its Logan County seat through election (in the 1854 election, then moved to Lincoln for the spring term in 1856 after litigation in local and upper court cases), this particular courthouse now appears like it was at that time -- both inside and outside -- if you discount the central heat, air conditioning and lighting.
Some of the information Lauren and Ashley discovered was that young lawyer Abraham Lincoln was not working on the Illinois 8th Judicial Circuit during the years 1847-1848, as he was serving a two-year term representing Illinois as a Whig in the United States Congress; and that the courthouse in Mount Pulaski became a schoolhouse (1857-1877), town offices, library, American Legion Hall and a post office (1880s-1936).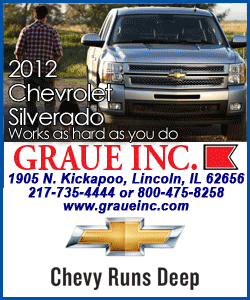 Also, they learned that the courthouse in Mount Pulaski once again served as a schoolhouse temporarily in 1912, when the three-story school building for first to 12th grades burned to the ground; and that Abraham Lincoln, Judge David Davis and other lawyers (Stephen Douglas, Samuel Treat among others) had to ride by horseback or buggy over 450 miles during six weeks in the spring session and again six weeks in the fall session to cover the entire 8th Judicial Circuit of 15 county seats. (The number of county seats was later reduced and train tracks connected them by the late 1850s.)
When the girls visited the Mount Pulaski Courthouse, the docent on duty that day, Phil Bertoni, remarked: "I could tell that it was going to be a great project with all their questions, note-taking and photos being taken."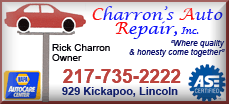 Lauren's grandfather, historian Paul Beaver, was on hand to help with the "digging." Their extensive work came in handy, especially when the judges quizzed them on it. Lauren also answered one of the judge's "why" questions with: "One of the reasons we choose this project was that my grandfather is a locally retired history professor, and my grandmother was born and raised in Mount Pulaski."
[Text from file received from Phil Bertoni]