Despite being outhit 10-4, ISU (34-21) was able to make the most of its run-scoring opportunities, and senior pitcher Jordan Birch was able to pitch out of several jams to record her 22nd win and 11th shutout of the season.

Drake (29-28) first threatened in the top of the first, when Hayley Nybo led off the inning with a single to right center and Jaimie Duffek followed with a one-out single through the left side. Birch was able to record back-to-back strikeouts to end the threat.

The Bulldogs' best chance came in the top of the fourth, when DU loaded the bases with just one out on three straight singles. Nybo sparked Drake with a one-out single, and Nicole Randel and Duffek followed with hits of their own. However, the Illinois State defense came through, as a hard ground ball to third baseman Elizabeth Kay resulted in a 5-2-3, inning-ending double play.

The Redbirds carried the momentum into their half of the inning and took a 1-0 lead when Andrews homered to left center. The Bulldogs put the tying runner in scoring position in both the fifth and the sixth, but Birch kept them off the scoreboard and Andrews delivered a two-run single in the bottom of the sixth that scored freshman Lindsey Green and junior Lauren Kellar to seal the victory for ISU.

Illinois State will meet tournament host Southern Illinois in the championship game of the State Farm MVC Softball Championship, and the winner will receive the Valley's automatic bid to the 2012 NCAA tournament. The Redbirds have not claimed the conference tournament championship since 2001 and are looking to make the NCAA tournament for the third straight year.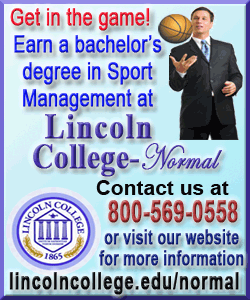 Outside the league's six-state footprint of Illinois, Indiana, Iowa, Kansas, Missouri and Nebraska, Saturday's championship game will be nationally televised on Fox Sports Midwest, Fox Sports Indiana, Fox Sports Kansas City, Fox College Sports Pacific, Comcast SportsNet Chicago, DirecTV (Channel 671), Dish Network (Channel 418), AT&T U-Verse (Channel 748) and ESPN3.
[Text from news release received from Dustin Hall, Illinois State University]