Federal Motor Carrier Safety Administration, Illinois Farm Bureau resolve intrastate vs. interstate transportation concerns

Send a link to a friend
[May 16, 2012] BLOOMINGTON -- The Federal Motor Carrier Safety Administration announced Thursday it will consider Illinois farmers hauling commodities in most circumstances to be intrastate commerce, effectively resolving months-long transportation concerns of Illinois farmers.
In a meeting with the Illinois Farm Bureau, the FMCSA staff confirmed the agency would adopt a new policy, applicable only in Illinois, that commercial motor vehicle transportation of agricultural commodities from a farm to the first transfer point, such as an elevator or livestock market, is transportation in intrastate commerce and therefore not subject to registration as an interstate carrier.

Under the new decision, farmers would not longer be required to apply for a U.S. Department of Transportation number for their trucks or pass a new-entrant safety audit to haul commodities to a first point of delivery.

"We are extremely pleased with the FMCSA's ruling in this case," said Philip Nelson, president of the Illinois Farm Bureau. "This ruling clarifies a number of provisions related to DOT and Unified Carrier Registration regulations for farmers hauling their grain or livestock commodities to markets within the state."

Anne Ferro, FMCSA administrator, and her staff toured Illinois farms and agribusinesses last summer, providing Illinois farmers and agribusiness the opportunity to voice their concerns surrounding the agency's interstate vs. intrastate interpretation and allowing Ferro and her staff a better understanding of Illinois agriculture, why those interpretations were cumbersome for Illinois farmers, and how agency resources could be put to better use.
"I want to thank the Illinois Farm Bureau for working with us and for spending time with us last summer to help us really understand farm transportation issues in Illinois, said Steven Mattioli, Illinois division administrator for FMCSA.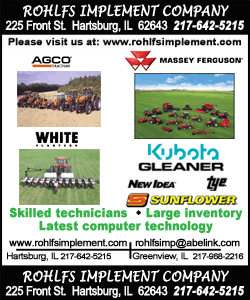 "We certainly appreciate the FMCSA and DOT officials' willingness to listen to our concerns," Nelson said. "The more than 1,700 comments submitted to the FMCSA and the FMCSA's cooperation and readiness to tour Illinois farms resulted in a favorable outcome for everyone."
The Illinois Farm Bureau is a member of the American Farm Bureau Federation, a national organization of farmers and ranchers. Founded in 1916, IFB is a nonprofit, membership organization controlled by farmers who join through their county Farm Bureau. IFB has a total membership of more than 420,500, a voting membership of 82,973 and represents 2 out of 3 Illinois farmers.
[Text from file received from Illinois Farm Bureau]