[May 16, 2012]

Send a link to a friend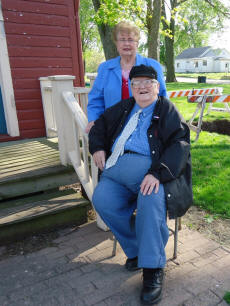 Monday morning the Civil War statue committee wrote the final chapter in their book of Logan County history when they placed a simple marker at the burial site of the old Civil War soldier statue in Postville Park.
For committee co-chairs JoAnne Marlin and Paul Gleason (pictured at left), the placing of the Civil War-era-style stone where the pieces of the old soldier are buried marks the completion of their job, and the committee will now disband.
When the 1869 statue fell to the ground in a winter storm in December of 2008, it was a heartbreaking moment for many in Logan County. The statue had stood as a tribute to the soldiers of Logan County who lost their lives during the Civil War.
Pictures by JoAnne Marlin