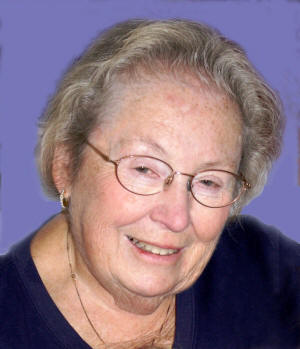 Phyllis Blaum
[May 18, 2012] NEW HOLLAND -- Phyllis Jeanne Blaum, 78, of New Holland, died Wednesday, May 16, 2012, at 10:10 p.m. at Memorial Medical Center in Springfield.
(Below is a copy of the obituary from the funeral home.)
___
New Holland- Phyllis Jeanne Blaum, age 78, of New Holland, IL died May 16, 2012 at 10:10 PM at Memorial Medical Center in Springfield, IL, after a brief encounter with pulmonary fibrosis.
She was born on August 12, 1933 in New Holland, IL; daughter of Carl Curtis and Ruth Mountjoy Hawes. She married Raymond :Jack" Blaum on July 6, 1952 in New Holland, IL. He survives. Phyllis is survived by two sons: Curtis (Waynetta) Blaum and Brian Craig (Cheryl) Blaum both of Bettendorf, IA; one daughter Wendy (Tim) Custis of Washington, IL; one brother Jim (Joanne) Hawes of New Holland, IL; two sisters: Mildred (Robert) Struebing of New Holland, IL and Marjorie Hawes of Lincoln, IL; eight grandchildren: Matthew (Alaina) Blaum, Michael (Samantha) Blaum, Courtney (Aaron) Vercler, Cameron ( Kristen) Custis, Collin Custis, Jessica Blaum, Jackie Blaum, Nicki Blaum; and six great-grandchildren. Phyllis was preceded in death by her parents and two sisters: Mary Nell Osborn and Helen Betzelberger.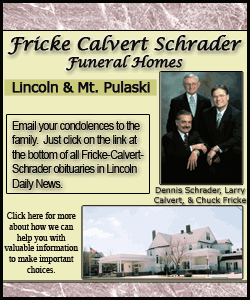 Phyllis was retired from the New Holland-Middletown School District after serving many years as a music teacher. She was a wonderful, kind hearted woman, touching the lives of many by sharing her enthusiasm for music; by performing, teaching lessons, and directing. She never missed the opportunity to be involved in the lives of her children, grandchildren, and great-grandchildren. She will always be remembered for her unique ability to "modify" a song to fit any occasion.
Phyllis' service will be Monday May 21, 2012 at 10:30 AM at the New Holland United Methodist Church with Rev. Becky Barrows officiating. Visitation will be 1:00 PM to 5:00 PM Sunday May 20, 2012 at Fricke Calvert Schrader Funeral Home in Lincoln. Burial will be at Richmond Grove Cemetery in New Holland, IL. Memorials may be made to the Phyllis J. Blaum Music Scholarship Fund in care of New Holland Banking Center.