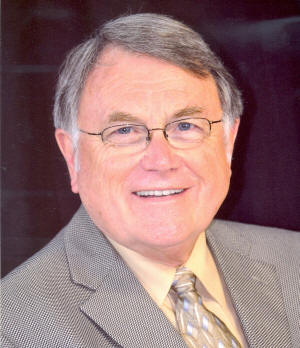 Larry Medaris
[May 18, 2012] DECATUR -- Larry D. Medaris, 73, of Decatur, formerly of Mount Pulaski, died Thursday, May 17, 2012, at 10:15 p.m. at Decatur Memorial Hospital.
(Below is a copy of the obituary from the funeral home.)
___
Decatur: Larry D. Medaris, 73, of Decatur formerly of Mt. Pulaski died at 10:15 P.M. Thursday May 17, 2012 at Decatur Memorial Hospital.
Larry was born on January 21, 1939 in Decatur, IL to Dale and Virginia Totten Medaris. He married Nancy Bolsen on August 7, 1960 in Bement, IL. She preceded him in death on July 23, 1970. He married Judith D. Leever on July 4, 1971 in Beason, IL. She survives.
Also surviving are seven children, Penny (Chuck) Fricke of Lincoln, IL, Pam (Jim) Brown of Beason, IL, Jan (Frank) Marsaglia of Thayer, IL, Tim (Mary) Southerlan of Mt. Pulaski, IL, Jack (Deb) Medaris of Blue Bell, PA, Jill (Brian) McElyea of Fleming Island, FL, Jennifer (Steve Cekander) Medaris of Mt. Pulaski, IL, one sister Ellen (Ralph) Zoch of Bement, IL, twenty grandchildren and five great-grandchildren.
He was preceded in death by his parents and one sister Janet.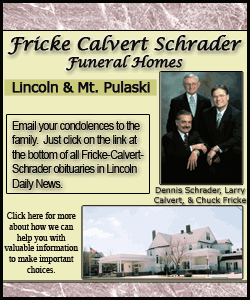 Larry was an agent and Country Financial representative for many years. Larry had been a multi-line agent with Country Financial in Mt. Pulaski for 26 years and was a member of the Macon/Piatt/DeWitt/Logan Agency of Country Financial. As a current member, and past President, of the NAIFA-Decatur Association of Insurance and Financial Advisors, he was active in the profession for 39 years. He received his Fellow of Life Underwriting Training Council (LUTCF) from The American College in 2002, and was an Investment Solutions Representative with County Trust Bank in Bloomington, IL. Larry earned his Financial Services Specialist (FSS) Designation in May 2008. He was a member of the Mt. Pulaski Christian Church where he served as a deacon for several years, being the Secretary of the Deacons Board as well as Chairman of the Deacons Board in 1990. He was also a member of the Gideon's.
Funeral services will be at 10:30 A.M. Tuesday May 22, 2012 at the Mt. Pulaski Christian Church with Mark Weber officiating. Visitation will be from 4:00-7:00 P.M. Monday evening at the Mt. Pulaski Christian Church Family Life Center. Burial will be at Steenbergen Cemetery, Mt. Pulaski. Memorials may be made to The Gideon's, the Bri's Endless Horizon Playground for Disabled in honor of his granddaughter Brienna, or The Mt. Pulaski Christian Church.
Arrangements are by Fricke-Calvert-Schrader Funeral Home in Mount Pulaski.