With Missouri State (12-7) beating Indiana State (14-6) and Wichita State (11-9) topping Creighton Friday night, the Redbirds can still finish as high as third place in the final conference standings. If Illinois State beats Evansville Saturday, ISU would improve to 10-9 (0.562 winning percentage), and if Wichita State loses to Creighton, the Shockers would fall to 11-10 (0.524 winning percentage), giving ISU the edge in the final standings. Meanwhile, the Purple Aces would fall to 10-11. The Redbirds will finish either in third or fourth with a win Saturday, or they will finish fifth with a loss.

"Today's game could have gone either way," said Illinois State head coach Mark Kingston. "Both starting pitchers threw very well, our defense was great, and our offense really gave it a push at the end. David Fallon hit the ball hard in our final at-bat, but it was just right at the first baseman."
Redbird starter Dylan Craig (8-3) suffered the loss after allowing two earned runs and striking out two through 6 2-3 innings. Meanwhile, Evansville starter Kyle Lloyd (5-3) earned the victory after pitching seven shutout innings, with just two hits and four strikeouts. Zach Taylor recorded the final two outs to secure the save. Both starters dominated the first half of the game, as both teams were held scoreless through the first four frames.

Evansville finally got on the board in the fifth inning with a two-run home run by Eric Stamets. The Purple Aces added to their lead in the seventh inning, as Jake Mahon hit an RBI single to drive in John Day.

With Evansville leading 3-0 in the ninth, Ty Wiesemeyer led off with a single. Zac Johnson then hit a deep fly ball to left field, which was caught in front of the wall by Andy Lasher. Eric Aguilera then belted a ball off the left-field fence to move Johnson to second, and Mike Hollenbeck walked to load the bases. Kevin Tokarski singled through the left side to drive home Wiesemeyer and Aguilera. Later in the inning, with the bases loaded and two outs, Fallon entered the game as a pinch hitter. He hit a hot shot to the first baseman, Day, who recorded the unassisted out to end the game.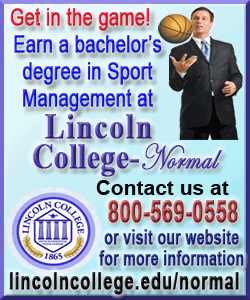 The Redbirds end the regular season Saturday versus Evansville, with first pitch scheduled for 1 p.m.
Already determined
No. 1 -- Indiana State (14-6)
No. 2 -- Missouri State (12-7)
No. 6 -- Southern Illinois (9-12)
No. 7 -- Bradley (8-13)
No. 8 -- Creighton (6-13)

No. 3, No. 4, No. 5 -- TBD between
Wichita State (11-9); can finish 12-9 or 11-10
Evansville (10-10); can finish 11-10 or 10-11
Illinois State (9-9); can finish 10-9 or 9-10
What ifs --
If WSU beats Creighton, will finish 12-9 and be the No. 3 seed.

If UE beats Illinois State, will finish 11-10 and will be the No. 4 seed (if WSU also wins), but will be the No. 3 seed if WSU loses (UE took two of three over WSU).

If ILS beat Evansville, will finish 10-9 and will be the No. 3 seed (if WSU loses), but will be the No. 4 seed if WSU wins.

[Text from news release received from John Twork, graduate assistant, athletics communications, Illinois State University)