"Creighton played better than us today," said Illinois State head coach Mark Kingston. "For some reason, we just didn't play our best baseball today. They did everything well today, and we just didn't have an answer for it. We have to be ready to bounce back, and I think we will respond well."

The Redbirds (32-18), who have won 10 of their last 12 games, will now have to win four consecutive games to earn the State Farm MVC Baseball Championship title. If ISU beats Evansville (32-26) Thursday morning, the Redbirds will have a rematch with Creighton (24-28) Thursday at 4:07 p.m. If Illinois State wins the rematch, the Redbirds and Bluejays will play again Friday to determine who will advance to Saturday's championship game.
After upsetting No. 1 Indiana State Tuesday, Creighton took an early lead against the Redbirds Wednesday, with one run in the second inning. However, Illinois State responded in the top of the third, as Brett Kay and Chad Hinshaw both singled, and Ty Wiesemeyer doubled to plate Kay. Hinshaw later scored on a wild pitch to give ISU a 2-1 lead. But the Bluejays added 10 unanswered runs over the next five innings to take an 11-2 advantage in the seventh.

In the eighth, Hinshaw walked to lead off the inning, and he scored on a double by Aguilera. The Redbirds added two more runs in the ninth, as Mike Hollenbeck led off with a single, followed by a Mirabal double. Both base runners scored on a double by Kyle Stanton. However, ISU did not get closer, as Creighton held off Illinois State 11-5.

Redbird starter Dylan Craig (8-4) suffered the loss after pitching 5 1-3 innings, allowing six earned runs on 10 hits. Meanwhile, Shane Liska (2-4) earned the win with a six-inning, one-earned-run performance. Creighton's Mike Gerber led the Bluejays offensively with a 4-for-5 effort, including three RBIs and two runs scored.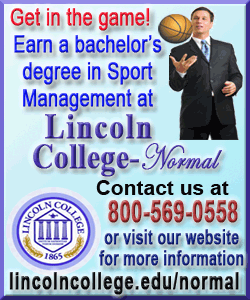 Illinois State's 9:07 matchup with Evansville Thursday will see junior right-hander Brad Sorkin (4-3, 4.21 ERA) face Evansville left-hander Kyle Freeland (4-5, 4.57 ERA). The pitching matchup is the same as last Friday's series final, which the Redbirds won 8-7 in 12 innings. Neither starter factored into that decision.

Live audio coverage of Thursday's game will be available on GoRedbirds.com and WJBC.com. Additionally, a live telecast will be streamed on ESPN3.com.

CollegeSportsMadness.com names Missouri Valley all-conference teams

Illinois State outfielder Eric Aguilera, infielder Zac Johnson and outfielder Ty Wiesemeyer were named to the CollegeSportsMadness.com Missouri Valley All-Conference First Team, as announced Wednesday. Aguilera and Johnson have already received first-team recognition from the league office, while Wiesemeyer was an honorable mention.
[Text from news release received from John Twork, graduate assistant, athletics communications, Illinois State University]