Jump-start your imagination with the park district's weeklong Creative Drama Camp. The week will be filled with improvisations, theater games and warm-ups as well as art, crafts and a busy rehearsal schedule. Young actors and actresses will have the chance to put on a performance for their families and friends on Friday, the final day of the camp. Bring your sack lunch every day, and swimsuit and a towel for a fun break at the Lincoln College pool Monday and Thursday. Transportation will be provided by Lincoln Park District.

Matthew Mason and Tara Shane have seen all sides of the theater. These two young adults have had 35 play experiences between them, all the way from entertainment to competition, as well as from the stage to the technical crews and orchestra pits. Matt and Tara are state-ranked performers in the arts. Both have experience working with children and can ensure that your children will have a great time while learning some new techniques. This camp is for children 6 to 12 years old. Sessions will begin on June 4 from 9 a.m. to 4 p.m. and run through June 8. The camp will meet in the craft room at the park district.

The Nathan Turner Memorial Fishing Clinic and Derby will take place again this summer. Nathan Turner, a former Lincoln City Council member, was an avid fisherman and outdoorsman. He grew up attending the park district's fishing derby and cared deeply about passing his love of fishing and the outdoors on to other children. His family wanted to support the clinic and derby to keep his memory alive. He is survived by his wife, Sarah; their son, Benjamin; his parents, Dan and Nancy; and sisters Janell and Nanette; along with many other loving family members.

The free fishing clinic explores the fundamentals and safety issues of fishing. Herb Drier of the Illinois Department of Natural Resources will teach young anglers how to tie on a hook, casting techniques and the usage of different baits. He will have displays and giveaways, and there will be drawings for fishing poles and equipment at the end of the presentation. The clinic will be on June 5 from 6:30 to 7:30 p.m. at the park district.

The free fishing derby is hosted by Hickory Lane Campground near Atlanta. In the past, the pond has been stocked just days before the event. Prizes will be awarded in several different categories in this competitive but fun event. The Lincoln Police Department D.A.R.E. program will contribute to the expenses. Chief Ken Greenslate will be on hand cooking hot dogs and providing sodas to the fishermen and their families. Parental approval is a must, and parents are encouraged to attend. The event will be at Hickory Lane Campground on June 9 from 9 a.m. to noon.

Tee ball is a noncompetitive introduction to baseball for both boys and girls. The basic skills of hitting, fielding, catching, throwing, base running and safety will be stressed through drills and game situations. Emphasis is on sportsmanship, teamwork and fun. Roster information will be available at the front desk at the park district. T-shirts, caps and schedules will be distributed at the first practice. All athletes must wear sneakers and have their own ball glove. The season will last for six weeks. In case of inclement weather, tee ball sessions will be indoors on the SportsCenter courts. Games will be on Saturday mornings at the park district.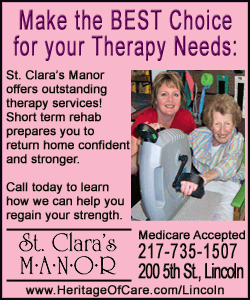 Katrina Schreiner will be the tee ball coach again this year. An alum of West Lincoln-Broadwell and Lincoln Community High School, Katrina has a strong sports history and will attend Illinois State University this fall. She loves working with kids and helping them learn the basics about sports. She has coached volleyball and tee ball in the past, and the park district is glad to welcome her back.
The park district is planning a fun-filled summer and is offering a brand-new program called Awesome Afternoon Adventures. Make the most of your summer in an opportunity to play, learn and create. Field trips around the town, outdoor and indoor fun and games, crafting, and creating healthy snacks will come together for the ultimate learning experience. Come make your summer an adventure with new activities every day. To name only a few of the fun expeditions, participants will tour the fire department, discover how groceries get on the shelves and go on scavenger hunts with clues that will turn everyone into Inspector Clouseau.
The goal is to offer this weekly program at much the same price as young people would have spent to swim. Costs will be $3 per day or $15 per week. Included in this nominal weekly fee is swimming at Lincoln College on Monday and Thursday from 1 to 4 p.m. Parents should drop off and pick up their children at the college on those days. Awesome Afternoons will be on-site at the park district on Tuesday, Wednesday and Friday. The exploring expeditions will leave from there. Remember, anyone age 7 and up is welcome to join Team Park District! The kickoff is scheduled for June 4 from 1 to 4 p.m. at the Lincoln College pool.
Water aerobics will be offered on Monday and Thursday evenings at 5:30 at the Lincoln College indoor pool. The first session is four weeks at a cost of $12, with dates of June 4-28. The second session begins July 9 and continues through Aug. 16. This six-week session is $20.
Keep an eye on this column, as we let you know how an awesome summer can unfold for people of all ages. One of the upcoming programs is Funny Business, a cartoon drawing class by Julie Larson, creator of the Dinette Set. A golf camp, featuring veteran instructor Doug Dean, will offer both morning and evening sessions this year. Totally new and coming in June will be viaduct art, also known as street art, specifically visual art developed in public spaces. For this program, the park district is partnering with the city of Lincoln and Chris Tice, an artist and educator based in Lincoln.
[Text from file received from Roy Logan, Lincoln Park District]