The program guidelines are:
Children must be 3 years old prior to Sept. 1.

Three-year-olds will meet in the morning (8-11 a.m.).

Four-year-olds will meet in the afternoon (noon-3 p.m.).

Classes meet five times per week.

Monthly tuition is $100.

Transportation is the parent's responsibility.
If you are interested or have any questions about the program, call Gene Newton, Mount Pulaski Grade School principal, at 217-792-7220.
---

Community Action board meeting notice

The next regularly scheduled corporate board meeting of Community Action Partnership is scheduled for May 31 at 7 p.m. The meeting will be at Community Action's corporate offices, 1800 Fifth St. in Lincoln.

For transportation to the meeting, contact the resource specialist at your county office:
DeWitt County:
Anita Russell, 217-935-2455

Logan County:
Cyndi Campbell, 217-732-2159

Mason-Fulton County:
Anna Richardson, 309-543-6988

Menard County:
Michelle Pickford, 217-632-3137

Piatt County:
Wendy Dotson, 217-762-2421
---

Extension and Master Gardeners offer youth programs in June
University of Illinois Extension in Logan County has three upcoming programs beginning in June for local youth ages 9-12. These programs will be presented and taught by trained Master Gardeners.
"Rock Stars" will be for six sessions, on June 5, 6, 7 and 12, 13, 14, from 1:15 to 2:45 p.m. daily. Participants in this program will learn more about geology and classes of rocks and do some rock collecting, as well as learn how to make a rock display case for the collection. Cost of this program is $20.
The "Wiggly Worms" program will be on June 5, 6 and 7 from 3:15 to 4:45 p.m. Participants will learn more about how worms contribute to our ecosystem and the balance of nature. Cost of the program is $15.
"Beautiful Butterflies" will be on June 12, 13 and 14 from 3:15 to 4:45 p.m. Participants will learn how butterflies hatch and play a part in nature. Cost is $15.
All programs require advance registration, which may be done in person before June 1 at the Extension office on the northwest corner of the Logan County Fairgrounds. Forms are also available on the Logan-Menard-Sangamon Extension website at web.extension.illinois.edu/lms/logan4h/. For more information or if you need a reasonable accommodation to participate in these programs, contact 732-8289.
---

Logan County 4-H offers youth programs in June
Logan County 4-H will have a Pets Mini Camp on June 8 from 8:45 to 11 a.m. at Kickapoo Creek Park in Lincoln. Youth 8-12 years of age are welcome to attend and join in the morning's pet-related activities.
Youth will participate in making a pet toy, pet photo frames and pet placemats as well as creating a snack.
Advance registration is required by June 1, and the cost will be $8 per person.
An International Cooking Camp will be offered as a Special Interest Club, or SPIN program, on June 19, 20, 21, 26, 27 and 28, from 9:30 to noon each day. This program is for ages 10-14. Participants will learn authentic ethnic recipes from a different culture each day -- Africa, Germany, Poland, Spain, Indonesia and France. Advance registration is required by June 12, and the cost is $35.
To register for these programs, stop in or call the Logan County Extension office, 980 N. Postville Drive in Lincoln, 732-8289, or visit the Logan-Menard-Sangamon website to access registration forms at web.extension.illinois.edu/lms/logan4h/. For more information or if you need a reasonable accommodation to participate in either of the programs, contact 732-8289.
---

Kevin Michael Barker of Lincoln earns Eagle Scout
Kevin Michael Barker, son of Llyle and Sue Barker of Lincoln, was honored at an Eagle Scout Court of Honor ceremony at Lincoln Christian Church on Sunday. He is a member of Boy Scout Troop 1102 in Lincoln and just completed his freshman year at Lincoln Community High School.
During his nine-year Scouting career, Kevin has advanced through Tiger Cubs, Cub Scouts and Boy Scouts, earning 28 merit badges on his way to Eagle Scout. The rank of Eagle is earned by 2 to 4 percent of Boy Scouts each year. He successfully led the troop in a project to build 12 park benches for Little Galilee Christian Camp in Clinton, a camp that he has been a part of and has been inspired by.
Kevin has also participated in National Youth Leadership training at Ingersoll Scout Reservation. He has served as senior patrol leader for the troop and has been inducted into the Order of the Arrow honor society. This summer he plans to complete a two-week, 62-mile backpacking trek through the mountains of New Mexico with members of his troop.
Troop 1102 Scoutmaster Robert Cox presented Kevin with his Eagle Badge during the Court of Honor.
After graduating from Lincoln Community High School, Kevin hopes to enter the medical field.
---

Upcoming Lincoln Jaycees Relay for Life fundraisers
The Lincoln Jaycees have two fundraisers planned for their Relay for Life team.
Saturday, May 26, from 10 a.m. to 3 p.m. the Jaycees will bag groceries and do carryout at IGA for donations. Luminaries may also be purchased.

Thursday, May 31, from 5 to 8 p.m. the Jaycees will have a Culver's night. Culver's will donate a percentage of sales to the team. So come out and eat and donations will be made to fight cancer.
The Lincoln Jaycees are a not-for-profit organization serving Lincoln and the surrounding communities. The organization gives young people between the ages of 18 and 40 the tools they need to build the bridges of success for themselves in the areas of business development, management skills, individual training, community service and international connections. Membership meetings are at 7 p.m. on the third Thursday of each month at the Lincoln Jaycees Center, 325 S. Chicago St., and are open to everyone.
---

Zion Ladies Aid sandwich sale
Zion Lutheran Church Ladies Aid Society will sell rib-eye and pork chop sandwiches Saturday, May 26, from 10 a.m. until 2 p.m. at the IGA parking lot.
---

Writing club to meet
Lincoln Writer's Club will meet on Tuesday, June 12, at 6:30 p.m. in the Alumni Room of the Lincoln College dining hall..
Suggested topics: a favorite relative, an age you'd like to be again, travel to another planet, or a second chance in life.
All are welcome.
For more information, call 732-2723.
---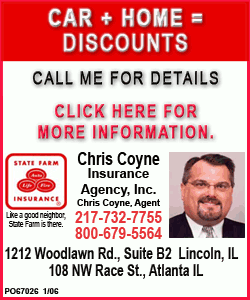 ---

First Presbyterian blood drive in memory of Joyce Kinzie

First Presbyterian Church sponsors the regional blood drive in June, and it is a memorial to the late Joyce Kinzie, who was a member of First Presbyterian and very active in the Lincoln community. This year the blood drive is at the Masonic Temple on North Kickapoo Street from noon to 6 p.m. on June 4.

Donating blood at this drive is a way to honor Kinzie's memory.

Kinzie died in September 2010 from pancreatic cancer. At the time of her death, First Presbyterian was planning a special blood drive in her honor at the church. After her death, that blood drive was so successful that the congregation decided to have the annual June blood drive in her name.

The Central Illinois Community Blood Center is the sole provider of blood and blood products to patients of hospitals in 14 counties, including Abraham Lincoln Memorial Hospital in Logan County.
---

HSLC spay-neuter transport in June

The Humane Society of Logan County's next spay-neuter transport to the Animal Protective League of Springfield will be on Monday, June 11. Call 217-737-4042 now to make arrangements for your dog or cat to be spayed or neutered in June.

The fee for all dogs except pit bulls and pit bull mixes is $55. The fee for pits is $25. Male cats are $35 to neuter, female cats are $45 to spay, and feral cats are $25.

All animals must have paper proof of a rabies shot, or one must be given at the time of spaying or neutering.

Other services are available at a reduced cost.
---

Salvation Army hosts free camp -- registration deadline May 30

The Logan County Salvation Army is sponsoring a free camp for kids this summer.

Children between the ages of 8 and 12 are invited to spend June 18 through 22 at Eagle Crest Camp in rural Washburn. The camp offers acres of nature and tons of indoor and outdoor activities, including swimming and sporting activities.

Registration is open until May 30 at Salvation Army's Keest Center, 307 N. Kickapoo St. in Lincoln.
---

New scholarship named for Memorial employee

SPRINGFIELD -- Leonia Cole, a surgical technologist at Memorial Medical Center for more than 55 years, was recognized on May 3 for her contributions to the careers of residents, other surgical technologists and nurses with the establishment of the Leonia Cole Surgical Technologist Scholarship Fund.

The fund, which will be administered by the Memorial Medical Center Foundation, will award a grant of $2,500 to a qualified candidate pursuing an associate degree in surgical technology at Lincoln Land Community College.

Cole began her career at Memorial on Jan. 26, 1954, as a nursing assistant. After 15 years, she was promoted to surgical technologist following completion of Memorial's first on-the-job training program for surgical technology.

"Leonia's dedication and commitment to helping others learn is exemplary," said Dave Joerger, administrator for Memorial's surgery department.

To apply for the scholarship, applicants must complete an educational grant application and the Leonia Cole Surgical Technologist Scholarship application, which are available by visiting MemorialCareers.com and clicking on the link to the Educational Assistance page. The application and all supporting documentation must be turned in by June 1. For more information, call 217-757-2125 or email TalentPlanning@mhsil.com.
---

Delavan to host Civil War re-enactment battle June 30-July 1

DELAVAN -- The inaugural Little Crane Creek Civil War re-enactment battle will be on June 30 and July 1 at the Lake Park in Delavan. It is one of many events in Delavan in conjunction with the city's175th birthday. The re-enactment is free and open to the public.

Re-enactors representing both the North and South will participate in a battle scheduled for 3 p.m. on Saturday and 2 p.m. on Sunday.

The weekend will also include an appearance by President Abraham Lincoln, Civil War storyteller Brett Hall and Civil War songs by Bob Welch. On Saturday evening there will be a period dance featuring the 33rd Illinois Volunteer Regiment Band.
---

Scholarships available at Community Action
Community Action is accepting applications for $1,000 Community Services Block Grant scholarships. The CSBG scholarships, offered in cooperation with the Illinois Department of Commerce and Economic Opportunity, are designed to provide financial assistance to low-income and disadvantaged individuals of high academic attainment or potential. Scholarships will go toward providing formal education or occupational training in an accredited Illinois educational institution to CSBG-eligible clients.
To be considered, applicants must be income-eligible and reside in DeWitt, Fulton, Logan, Mason, Menard or Piatt counties, and must be enrolled or accepted at an Illinois accredited higher educational or occupational training institute.
Applications will be accepted through June 15. Interested applicants should visit their local Community Action office or contact Kathy Shepherd, community services director, at 1-877-588-7189, ext. 246, for details.
Community Action Partnership of Central Illinois is a not-for-profit organization serving low-income and senior populations in six central Illinois counties. To find out more about the services offered, visit www.capcil.org. For updates, like the agency on Facebook.
---

Harvest of Talents Princess Tea planned for June 30
Harvest of Talents for World Hunger and Lincoln Christian Church are sponsoring a Princess Tea again this year for young ladies ages 3-13. The event will be on June 30 at the Lincoln Christian Church Fellowship Hall. Doors will open at 10:45 a.m., and the tea is from 11:30 a.m. to 1 p.m.
The theme of the event will be "Secret Garden." Young ladies are invited to dress in whatever makes them feel pretty. Tea will be served on decorated tables and entertainment will be provided. There will also be time allowed for photo ops.
Tickets go on sale May 1. Seating is limited. For more details and to make reservations, contact Vera Thomas at the church office.
Young ladies are to be accompanied by a chaperone, such as their mother, grandmother, aunt or friend.
Lincoln Christian Church is located at 204 N. McLean St. in Lincoln.
All proceeds from the Princess Tea will go the 2012 Harvest of Talents for World Hunger, to feed hungry people worldwide.
---