Gettysburg Address goes on display starting Friday at presidential museum

Send a link to a friend
[May 30, 2012] SPRINGFIELD -- One of the most famous documents in United States history goes back on display at 9 a.m. Friday in the Treasures Gallery at the Abraham Lincoln Presidential Museum in Springfield. The handwritten manuscript of the Gettysburg Address was last publicly displayed at the museum during Lincoln's Birthday observances Feb. 9-13. The manuscript will be on display through 5 p.m. Sept. 4.
Paid museum admission is required to view the document.

There are five original handwritten versions of the Gettysburg Address. Two incomplete versions are in the Library of Congress, a finished version at Cornell University, and the only one Abraham Lincoln signed and dated is in the Lincoln Bedroom of the White House.

The Abraham Lincoln Presidential Library and Museum's copy, written at the request of Edward Everett, the main speaker on Nov. 19, 1863, at the Gettysburg Cemetery dedication, came to the state of Illinois in 1944, thanks to the contributions of pennies by Illinois schoolchildren plus a donation by department store magnate Marshall Field III. Illinois' copy contains the two famous additional words "under God" that Lincoln had not included in his two original draft copies.

Displayed nearby will be an original 1880 letter written by Thomas Edison, never before shown, in which the famed inventor praises Lincoln's greatness.

Beginning on Sept. 5, a signed copy of the Emancipation Proclamation will go on display through January 2013. This display will mark the 150th anniversary of the presidential order that freed all slaves in rebel-held territory.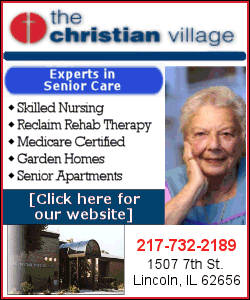 The Gettysburg Address and Emancipation Proclamation are part of the 52,000-item Lincoln Collection at the Abraham Lincoln Presidential Library and Museum. Pieces from the collection are displayed on a rotating basis in the museum's Treasures Gallery. They range from the earliest known document written by Lincoln to items belonging to his wife and children.

For more information, visit www.presidentlincoln.org.
[Text from Abraham Lincoln Presidential Library and Museum file received from the Illinois Historic Preservation Agency]