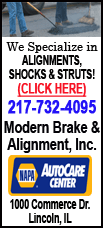 Coffey is a firefighter for the city of Lincoln, but he is also a small-business owner who lives in the city. In his business he uses trailers he pulls behind pickups. When the trailers are not in use, he has been parking them along the street near his home.

He told the council he had recently received a letter from the city stating that it was illegal to park the trailers on the city streets. He said he has moved them, but he would like to be able to return to parking them on the street near his home.

Since receiving the letter, Coffey has talked to a number of people who feel they should be allowed to park on their own property in front of their own home, especially when the vehicle is licensed and usable.

Coffey showed the council a copy of a form letter he has created and given to people he knows. He said in essence the letter is asking the city to revisit the ordinance pertaining to street-side parking and perhaps make it more user-friendly for people like himself.

Coffey said for him personally, this is a big issue because he needs the trailers for his business, and also according to city ordinances, he cannot legally park them in his own driveway.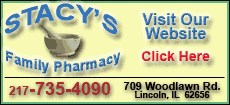 As the discussions on the issue began, Alderwoman Marty Neitzel spoke first about Pulaski Street. She said if everyone who owned a boat, camper or trailer was allowed to park them along the street, there wouldn't be room to drive down it.
Coffey responded by saying it isn't illegal for homeowners to park their cars along the street and he has to wonder what the difference is.
It was then brought up that there are allowances for temporary parking. Someone may park their boat or camper along the street for no more than 72 hours; then it must be moved. Building and zoning officer John Lebegue said he felt it was a reasonable allowance.
Lebegue said one of the biggest problems with allowing these types of vehicles and trailers on the road comes from obstruction. He noted that in the wintertime, trailers and campers along some streets end up being plowed in, plowed around and that reduces the number of lanes on a street down to next to nothing in some places.
Lebegue noted there are many cities where street-side parking is strictly prohibited.
It had also been brought up that some of the vehicles or trailers parked along the street are used perhaps a few days a year, such as campers or mobile homes.
Coffey said he could understand when there are things parked and not being used, or parked for long periods of time, but perhaps the city could look at these situations on a case-by-case basis.
Alderman David Wilmert said he was willing to review the ordinance, but at this point he was leaning toward making no changes to the rules regarding street-side parking. However, he also indicated he would be more inclined to ease up on the ordinances against parking trailers in driveways.

He said he felt the city might be able to do something to create a balance in the law.
Alderwoman Stacy Bacon also weighed in on the issue, saying it was nothing new to the city. She recalled that the issue came up when Joan Ritter was mayor and was living near Bacon in Ward 1.
Bacon said her family had campers then, and they too received the warning letter. Bacon said she went to Ritter with the issue, and the only resolution was that the camper could be parked on their privately owned property as long as they could get it maneuvered to the side and back of their home.
Bacon said she personally didn't see any difference between a trailer and a big four-wheel-drive truck being parked on the street. She told Coffey she agreed the ordinance needed to be changed.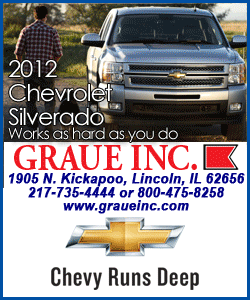 Alderman David Armbrust did not agree. He said he too owns campers and trailers and would not want anyone to have to see around them when coming to an intersection.
He said he would not be in favor of changing the current ordinance.
Mike Geriets, deputy chief of police, recalled that a problem along Limit Street a few years ago became a big issue for the entire neighborhood. He said it was the neighbors who started complaining about the number of things parked along the street.
He also noted that if the city starts allowing this type of parking, they will be shocked at the number of trailers, boats and campers that come out.
Alderwoman Melody Anderson said she would admit she would not want to look out her window every day and see trailers, but she felt that if they were parked on personal property, there should be some allowances.
Alderwoman Jonie Tibbs also commented on a couple of complaints she had received and investigated last year. She said she was especially concerned when she saw black trailers with no reflectors on them at night.
Coffey said Illinois Department of Transportation laws have changed recently, requiring more red and white reflective tape on trailers to make them more visible at night.
After the discussions ended, no motions were added to next week's agenda. However, later in the evening, Alderman Tom O'Donohue, who chairs the ordinance committee, said he would call a special meeting of that committee for June 12 at 6:15 p.m.
The public is reminded that unless otherwise stated and supported by law, all meetings of the Lincoln City Council are open meetings, meaning the public is welcome and encouraged to attend.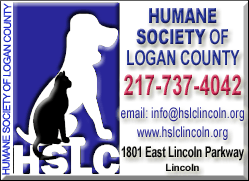 Below is a copy of the city ordinance pertaining to street-side parking:
9-5-10(B): PARKING TO OBSTRUCT PROHIBITED:
(B) Further, the following are declared obstructions to traffic:
1. The parking of a motor vehicle, camper, trailer, boat or other personal property (hereinafter called "vehicle") upon any of the streets in the city for longer than seventy two (72) hours consecutively without moving the vehicle, shall constitute an obstruction of the street;
2. A further obstruction shall be deemed to have arisen under the following conditions: It shall be the duty of the owner of any vehicle parked on any street or alley in the city to remove the vehicle from the street or alley within twenty four (24) hours after snow has fallen to a depth of over one inch (1") in the city.
A failure to remove the motor vehicle within the twenty four (24) hour period shall be deemed an obstruction of the street or alley.
[By NILA SMITH]