[November 01, 2012]

Send a link to a friend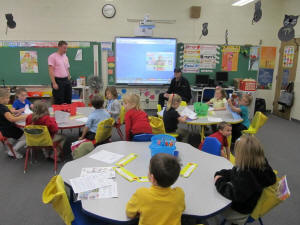 Wednesday, the Lincoln city firefighters paid a visit to Carroll Catholic School. The visit was a part of their monthlong effort to educate youngsters on fire safety.
In the kindergarten classroom, the firefighters used the school's Smart Board technology to help teach little ones the importance of smoke detectors, not playing with matches and lighters, and having a family meeting place outside the house in case of a fire.
In addition to visiting with the kindergarten class, the firefighters also brought these valuable lessons to the first-, second- and third-graders. Before they ended their day, each class got to have their photo taken with the firefighters and their engine 5102.
Pictures provided by Carroll Catholic School