[November 03, 2012]

Send a link to a friend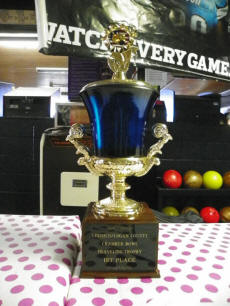 Friday afternoon several teams participated in the annual Chamber Bowl fundraiser. The fundraiser helps the Lincoln/Logan Chamber of Commerce fund other projects throughout the year.
This year the lanes at Logan Lanes were full of bowlers who had their eye on the prize: a traveling trophy that for the next 12 months will testify that they are the best of the best at the Chamber Bowl.
Throughout the afternoon Shawn Taylor, owner of the local bowling alley, called out opportunities for bowlers to win additional free games for the future. Using a microphone, he encouraged bowlers to do their best.
The afternoon also offered a variety of good food for hungry folks to snack on, and of course plenty of beverages were available as well.
Pictures by Nila Smith