Snow leopard mate arrives at Miller Park Zoo
Endangered cat is latest addition to the zoo

Send a link to a friend
[November 05, 2012] BLOOMINGTON -- Miller Park Zoo has added an important piece to its conservation efforts.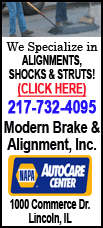 A female snow leopard, Hima, has joined the male on exhibit at the zoo to establish a breeding pair. The animal is part of Miller Park Zoo's conservation efforts via the Snow Leopard Species Survival Plan.

Hima is 2 1/2 years old and just one day older than Rilu, the male snow leopard who has been at the zoo since 2011. Hima arrived in Bloomington via the Bronx Zoo. She was born at the Granby Zoo in Quebec, Canada. The importation process to bring Hima to Miller Park Zoo took over a year.

The large cats are currently on exhibit in the Katthoefer Animal Building.

Jay Tetzloff, Miller Park Zoo superintendent, serves as national coordinator of the Snow Leopard Conservation Breeding Program.
"The snow leopard is an endangered species with a captive population of about 150 animals at 60 institutions throughout North America," Tetzloff says. "We are hoping to see a litter from this pair, although chances are low for next summer. Hopefully by 2014 we can see some cubs."
Snow leopards are medium-sized cats, weighing between 60 and 120 pounds and reaching a length of 39 to 51 inches. The animals have smoky grey fur and a tail that can grow to almost the length of the cat's body. Snow leopards are native to mountainous regions in Central Asia and extending from Afghanistan to China.
[Text from Miller Park Zoo file received from Bloomington Parks & Recreation]