Kathleen Garrett
[November 05, 2012] LINCOLN -- Kathleen Imogene Garrett, 83, of Lincoln, died Monday, Nov. 5, 2012, at Memorial Medical Center in Springfield.
(Below is a copy of the obituary from the funeral home.)
___
Kathleen Imogene Garrett, 83, of Lincoln, passed away November 5, 2012 at Memorial Medical Center in Springfield, IL.
Visitation will be from 10:00 AM until 11:00 AM Wednesday, November 7, 2012 at Holland Barry & Bennett Funeral Home in Lincoln. Funeral services will be 11:00 AM also on Wednesday at the funeral home with Pastor Rachel Stockle officiating. Burial will follow in St. Mary's Cemetery, Lincoln.
Kathleen was born November 5, 1929 in Cumberland County, Illinois, the daughter of Daniel and Inez (Oakley) Seeley). She married Paul Garrett on November 14, 1946 in Mattoon, Illinois. He preceded her in death.
She was a member of the United Methodist Church in Mt. Pulaski, IL. Kathleen was retired from Abraham Lincoln Memorial Hospital in Lincoln where she was employed for 15 years as a nurse's aide.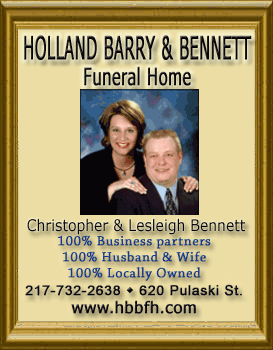 Surviving are her children: Gloria (Gerald) Goodman of Mt. Pulaski, IL., Roger (Jan) Garrett of Bloomington, IL., and Peggy Garrett of Lincoln, IL.; sisters: Betty Bland of Toledo, IL., Rose Cartwright of Ashmore, IL., Carol Comer of Casey, IL., Connie Parker of Greenup, IL., Nancy Willowby of Riverton, IL., Karen Trigg of Toledo, IL., and Dorothy Fogle of Naperville, IL. 9 grandchildren, 14 great grandchildren, and several nieces, nephews, cousins, and friends also survive.
She was preceded in death by her parents, her husband Paul Garrett, son David Garrett, son Rickey Garrett, grandson Jerry Goodman, brothers: Willard Seeley, Eugene Seeley, Vora Seeley, William Seeley, and Ronnie Seeley, and sisters Norma McCloud and Maxine Myers.
Memorial donations may be made to the United Methodist Church of Mt. Pulaski, IL. and will be accepted at the funeral home.