During the evening, each person who registers as a guest for the event will generate a $10* donation by Ford to the Humane Society of Logan County, up to $500 total for the evening.

In addition, visitors have an opportunity to win some great prizes.

People who register and attend the event are automatically entered for a chance to win a 2013 Fusion courtesy of Ford Credit.

While there, they can also test their judging skills with "American Idol"** and possibly win a VIP experience at the show.

The evening will also include hors d'oeuvres and drinks, and a chance to see the new lineup from Ford, including the all-new, redesigned Ford Fusion.

Plus, guests can talk to volunteers from the Humane Society and learn how they can adopt a pet in need.

The Humane Society of Logan County is a not-for-profit agency that provides safe, loving, temporary shelter to animals in need. The society offers adoption programs so these animals can find new "forever homes." The HSLC pays for the cost of its work through the generosity of the community and hosts multiple fundraisers throughout the year to help keep this valuable service available.

For answers to questions about the Nov. 15 event, contact Jim Xamis Ford Lincoln, 2301 Woodlawn Road, 217-732-2111, www.jimxamisford.com, www.facebook.com/jimxamisford.

If you are interested in adopting a pet from the shelter, visit this link in Lincoln Daily News: http://reference.lincolndailynews.com/
animal%20adoption/humane_society.shtml,

[LDN; based on information received from Ellen Burbage, Humane Society of Logan County]

Disclaimers:

*Ford will contribute $10 per registered guest up to a maximum of $500.

**No purchase necessary. Complete rules available at www.gofurtherwithfordnight.com.

American Idol: ®/© 19 TV Ltd. and FremantleMedia North America. 2013 All rights reserved. www.americanidol.com.

Charitable donations are the sole responsibility of Ford, not American Idol® or related parties.
---

Jaycees invite seniors to annual feast plus Schwan's fundraiser
The Lincoln Jaycees are now accepting reservations for their annual Senior Feast. The Jaycees will serve a free holiday-style meal with dessert on Saturday, Nov. 10, from 11 a.m. to 1 p.m. at the Masonic Center, 2022 N. Kickapoo St. The meal is available to seniors age 65 and up.
To make a reservation or to inquire about delivery options, call Meg Eckert at 217-220-2906.
The Lincoln Jaycees are also having a Schwan's truckload fundraiser that day at the Masonic Center. Stop by between 9 a.m. and noon to purchase your favorite Schwan's items, or pre-order to ensure product availability by contacting Kim at 217-871-4940.
The Lincoln Jaycees are a not-for-profit organization serving Lincoln and the surrounding communities. The Jaycees give young people between the ages of 18 and 40 the tools they need to build the bridges of success for themselves in the areas of business development, management skills, individual training, community service and international connections. Monthly membership meetings are at the Lincoln Jaycees Center, 325 S. Chicago St., on the third Thursday at 7 p.m., and are open to everyone.
---

United Methodist Men to host pancake breakfast
The United Methodist Men will host an all-you-can-eat pancake and sausage breakfast on Saturday, Nov. 10, from 7 to 11 a.m.
The event will be at the First United Methodist Church, 302 Broadway St. in Lincoln.
The cost per meal will be $7 for adults and $3 for children under 12. Carryouts will also be available. Please call 737-6507 before Nov. 10 to place orders
In addition, bulk sausage will be available for sale in 2-pound packages, and the United Methodist Women will have a bake sale.
Proceeds from this event will go to support UMM missions, including church camps, Together for Lincoln and youth mission trips.
---

New Holland American Legion Auxiliary meets Wednesday
NEW HOLLAND -- New Holland Unit 715 of the American Legion Auxiliary will meet Wednesday, Nov. 7, at 6 p.m. at Slackers Bar & Grill in New Holland.
Members will be working on tray favors for the Danville VA hospital. Those attending are asked to bring scissors to work on the project. Also, if members have any fun-size flat candy bars such as Hershey's and Kit-Kat and would like to donate them to be put on the tray favors, bring those along, too.
The group plans to make 220 tray favors for Danville, so help is needed.
For more information, contact Roseann Coers at 737-2534.
---

Local women become part of new Golden Z Club charter
CHAMPAIGN -- A new service club for youth -- dedicated to providing career guidance and promoting leadership skills, international fellowship and the ideal of service -- was chartered on Oct. 27 at the I Hotel in Champaign. Zonta District 6 Gov. Linda Hiltabrand and Suzanne Leeke, District 6 Z Club/Golden Z Club chairman, presented the charter to the Golden Z Club. There are four charter members under the direction of the club's president, Elizabeth Kahle.
The University of Illinois Champaign Golden Z Club is one of the youth groups of Zonta International, the worldwide service organization of executives in business and the professions, working together to advance the status of women.
Golden Z Club members undertake service projects benefiting their school, community and the world. They promote the development of leadership ability and good character, and they strive for scholastic achievement and the improvement of international understanding through service.
The Golden Z Club in Champaign is the first in District 6, which includes Indiana, Illinois and Wisconsin.
Members of Zonta International support international service projects intended to advance the status of women, particularly in developing nations, and they fund the Amelia Earhart Fellowship awards, given annually to women pursuing graduate study in aerospace-related sciences and engineering. Zonta International enjoys nongovernmental organization status with the United Nations and consultative status with several of its agencies. As of spring 2011, there were approximately 30,000 Zontians belonging to more than 1,200 clubs in approximately 63 countries and geographic areas.
---

Lincoln Writer's Club to meet Nov. 13

Lincoln Writer's Club will meet Tuesday, Nov. 13, at 6:30 p.m. in the Alumni Room of the student center at Lincoln College.

Suggested topics: a Thanksgiving story, a "positive attitude" story, or a story about your children and their different temperaments.

For more info, call 732-2723. All are welcome.
---

Humane Society of Logan County offers holiday cookie trays

Planning holiday parties or looking for gifts to give special friends or relatives? Let the Humane Society of Logan County do your holiday baking. HSLC is once again taking orders for holiday cookie trays. Each tray will contain three dozen fancy holiday cookies with a variety of at least 12 different kinds of cookies.

The cost is still only $15 per tray. Larger trays are also available.

To place your orders, call Adrienne at 217-732-1979. The deadline for placing orders is Dec. 1.

Orders can be picked up on Dec. 8 at Graue Inc., 1905 N. Kickapoo St., from 9 a.m. to 3 p.m.

All proceeds benefit the Humane Society of Logan County.
---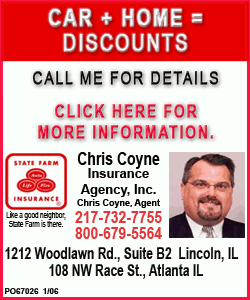 ---

San Jose UMC turkey supper and bazaar Nov. 7

SAN JOSE -- The San Jose United Methodist Women, with the help of the men of the church and members of the community, are presenting their annual turkey supper and bazaar on the first Wednesday of November. Serving is from 4 till 7 p.m. Nov. 7.

The roast turkey supper features mashed potatoes and gravy, the "famous" dressing, corn and green beans, salad, desserts, and drinks, besides generous pieces cut from freshly roasted turkey.

Guests may dine in the beautiful Fellowship Hall or carry out.

Bazaar booths open at 3:30 p.m. and include a Candy Shop with a large variety of homemade candy and sweets; Country Store, which will have homemade pies, cinnamon rolls, breads, jelly and other goodies; and a craft booth with unique Heirloom cards, Christmas cards and musical ornaments. There will also be a table of "nearly new" Christmas decorations and other novelties.

Tickets will be sold in advance by members of the church or at the door for the same price. Ticket prices for dine-in are $9 for adults and $4 for children. Carryout prices are $9.50 and $4.

The San Jose United Methodist Church is located at 601 S. First St. in San Jose, six blocks south of U.S. 136, at the corner of Linden and First. San Jose is about 15 miles directly south of Pekin on Towerline Road; or from Route 29 to U.S 136, then east two miles to San Jose; or about 10 miles west of Interstate 155 on U.S. 136.

For tickets or more information, call the church at 309-247-3232 or Jim Eeten at 309-247-3485.
---

Lincoln Low Vision Support Group meets Nov. 12

The Lincoln Low Vision Support Group will host a meeting Monday, Nov. 12, at the Lincoln Christian Church from 1 to 2 p.m.

The church is located at 204 N. McLean in Lincoln. Those attending should enter through the north door, under the canopy.

The Mary Bryant Home for the Blind will bring their store to the meeting and will have products for sale, making it a good time to do a little Christmas shopping.

In Logan County, transportation to the meeting is available by contacting Logan Mason Public Transportation at 732-2159 or toll-free at 866-930-8212. (LMPT rate schedule)

If you have any questions, contact Sandy at 732-6528.
---

City of Lincoln leaf pickup dates announced

The city of Lincoln will provide leaf pickup services for residents again this year. Pickup days will be by ward and will run beginning next week through Dec. 3.

Only biodegradable bags of leaves will be picked up. Bags must be at the curb by 7 a.m. each day.

Leaf pickup dates:
Ward 1 -- Oct. 29, Nov. 9, Nov. 21

Ward 2 -- Oct. 31, Nov. 13, Nov. 26

Ward 3 -- Nov. 2, Nov. 14, Nov. 28

Ward 4 -- Nov. 5, Nov. 16, Nov. 30

Ward 5 -- Nov. 7, Nov. 19, Dec. 3
For those who wish to bring their leaves directly to the landscape waste facility, it is currently open Monday through Saturday from 8 a.m. until 3:50 p.m. for all landscape waste. This will continue until Nov. 21.

On Nov. 24 the facility will return to regular hours: Wednesday and Saturdays, 8 a.m.-3:50 p.m.
---

Christian Village to host annual fall festival Nov. 10

The Christian Village in Lincoln invites everyone to join them on Saturday, Nov. 10, for their annual fall festival.

It will be a day of fun and games, food, and family activities and entertainment.

Among the list of activities are face painting, pumpkin painting and a chance to have a fall family portrait taken.

Live music will be presented from 11 a.m. to 1 p.m., and a choice of chili or pork chop lunch will be served from 11 to 2.

Other activities included in the day are hayrack rides, a craft and bake sale, facility tours and more.

(See publicity.)
---

Lunch and Learn program Nov. 6 at Oasis

The Area Agency on Aging for Lincolnland, in cooperation with Senior Citizens of Logan County, has scheduled a Lunch and Learn program for informal caregivers of older adults and grandparents and other relatives raising children. It will be at the Oasis Senior Center, 501 Pulaski St. in Lincoln, on Nov. 6 from noon to 1 p.m.

Jamie Freschi, regional long-term care ombudsman, will present information regarding "Residents' Rights in Long-Term Care Facilities."

Lunch will be provided, and preregistration is required. There is no charge to attend.

This presentation is part of a series of Lunch and Learn programs. The goal of the series is to provide practical information that will help caregivers continue to provide quality care to others while maintaining balance in their own lives.

Informal caregivers are those unpaid people such as family members, friends and neighbors who provide assistance to someone who is to some degree incapacitated and in need of help with tasks such as grocery shopping, bill paying, cooking or personal care. Grandparents or other relatives raising grandchildren are those who have accepted primary responsibility for raising one or more children through age 18.

To register or to learn more about this program, contact the Area Agency on Aging for Lincolnland at 217-787-9234 or 800-252-2918.
---

Logan Art Association invites you to join them at their 1st meeting Nov. 6

On Nov. 6, anyone who is interested is invited to attend the organizational meeting of the Logan Art Association. The meeting will be at 7 p.m. at the Lincoln Art Institute, 112 N. McLean St. in Lincoln.

The meeting is free to attend and open to anyone 18 years of age and older who is interested in any kind of art.

Organizers are hopeful that local artists will be interested in becoming a part of this association, but also encourage anyone who is interested in learning more about art to attend as well.

Areas of interest will be drawing, painting, sculpture, photography and art history.

This is the first meeting, so the group doesn't have an agenda yet. Organizers are open to ideas and suggestions that might help determine the direction the group will take.

"Please join us," says Georgie Borchardt. "We'd love to see/meet you and have you begin this new adventure with us!"

Contact Borchardt at 309-244-5708.
---

Elkhart Historical Society presents 'Christmas According to Hollywood'

ELKHART -- In early November, the Elkhart Historical Society will present "Christmas According to Hollywood." The presentation will explore favorite Christmas movies and some little-known facts about them in an evening of relaxation, laughter and a meal at the Wild Hare Café before the holiday rush begins.

The event will be on Nov. 9 at 5:30 p.m.

Each Christmas we immerse ourselves in sentimentality brought to us courtesy of Hollywood. The modern history of Christmas has included many sentimental, poignant and funny movies, from Jimmy Stewart in "It's a Wonderful Life" to Bing Crosby and Danny Kaye in "White Christmas." We enjoy watching Scrooge from "A Christmas Carol" and the eternally optimistic, yet cursed Clark Griswold from "National Lampoon's Christmas Vacation." Who can forget "A Christmas Story" with Darren McGavin and the reminiscing about that first BB gun and sometimes a "confession" to admiring or even owning the leg lamp that gave McGavin's character so much delight.

The cost for the evening is $25 per person.

For reservations, call 217-947-2238. Reservation forms may be downloaded from www.elkharthistoricalsociety.org, or pick up a reservation form at Horsefeathers in Elkhart.
---