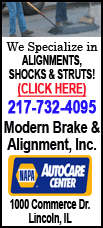 The (Sterling) Daily Gazette reports (http://bit.ly/RH0nuw) that a Whiteside County jury took less than three hours Tuesday to convict Nicholas Sheley in the June 2008 killing of 93-year-old Russell Reed in his Sterling home.
Prosecutors said Sheley was desperate for money to buy cocaine when he killed Reed.
Sheley is accused of killing Reed and seven other people in Illinois and Missouri in 2008. He was sentenced to life in prison last year in the death of 65-year-old Ronald Randall of Galesburg, and faces another life sentence in Reed's death.