Today's highlight in history:
On Nov. 7, 1972, President Richard Nixon was re-elected in a landslide over Democrat George McGovern.
On this date:
In 1811, U.S. forces led by Indiana Territory Gov. William Henry Harrison defeated warriors from Tecumseh's Confederacy in the Battle of Tippecanoe.
In 1861, former U.S. President John Tyler was elected to the Confederate House of Representatives (however, Tyler died before he could take his seat).
In 1862, during the Civil War, President Abraham Lincoln replaced replace Maj. Gen. George B. McClellan as commander of the Army of the Potomac with Maj. Gen. Ambrose Burnside.
In 1912, black boxing champion Jack Johnson was indicted in Chicago for allegedly violating the Mann Act with a white woman, Belle Schreiber. (Johnson was convicted and sentenced to a year in prison; he fled the U.S., later returning to serve his term.)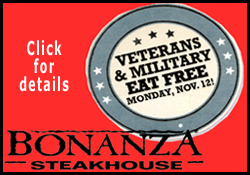 In 1916, Republican Jeannette Rankin of Montana became the first woman elected to Congress.
In 1917, Russia's Bolshevik Revolution took place as forces led by Vladimir Ilyich Lenin overthrew the provisional government of Alexander Kerensky.
In 1940, Washington state's original Tacoma Narrows Bridge, nicknamed "Galloping Gertie," collapsed into Puget Sound during a windstorm.
In 1944, President Franklin D. Roosevelt won an unprecedented fourth term in office, defeating Thomas E. Dewey.
In 1962, Republican Richard Nixon, having lost California's gubernatorial race, held what he called his "last press conference," telling reporters, "You won't have Nixon to kick around anymore." Former first lady Eleanor Roosevelt, 78, died in New York City.
In 1973, Congress overrode President Richard Nixon's veto of the War Powers Act, which limits a chief executive's power to wage war without congressional approval.
In 1980, actor Steve McQueen died in Ciudad Juarez, Chihuahua, Mexico, at age 50.
In 1992, former Czechoslovak leader Alexander Dubcek (DOOB'-chek), whose failed attempt to loosen the Communist grip on his country became known as the "Prague Spring," died at age 70.