The star-studded cast also includes Tommy Lee Jones, Hal Holbrook and John Hawkes, the latter portraying Robert Latham. Robert Latham was an original developer of the town of Lincoln, working side by side with Lincoln during the plotting of the town and its christening. Latham was also one of the primary developers of Lincoln College, and the town of Latham in Logan County bears his name. His portrait is located in the rotunda of the historic Logan County Courthouse, along with the other founding fathers.

The film is based on "Team of Rivals: The Political Genius of Abraham Lincoln," a biography by Doris Kearns Goodwin. The movie covers a four-month period at the end of Lincoln's life as the president attempts to get Congress to pass the 13th Amendment, abolishing slavery. The film's release coincides with the 150th anniversary of the issuance of the Emancipation Proclamation.

The opening night of "Lincoln" in Lincoln will be a grand red-carpet affair, as moviegoers attending the 5 p.m. show are greeted by Lincoln and the Lady, portrayed by Chris Hotz and Deborah Senger of Timeless Presentations. Timeless Presentations was created in 2008 by the two of them, originally as Abe and Mary Lincoln, featuring walks, step-on tours, presentations and appearances as an avenue to provide historic entertainment for central Illinois. Together they share a striking resemblance to the famous couple and will greet guests entering the historic Lincoln Theater 4. Everyone is invited to dress in period attire, and photo opportunities will be available with President Lincoln and the first lady along the red carpet prior to entering the theater to enjoy the movie. Lincoln and the Lady will also be on hand to greet guests and for photos prior to the 8 p.m. showing.

Lincoln Theater 4 was built in 1923 and has had multiple owners over the years until Lincoln native David Lanterman purchased it in January 2011. The largest of the four theaters seats about 175, with the others approximately 130. Lanterman has been busy changing the theater technology from 35-millimeter film into a digital format, which was completed in March.

Patrons of the Nov. 16 showing at Lincoln Theater 4 can receive information that night detailing the unique connection of Abraham Lincoln to the city of Lincoln and can obtain special gift offers courtesy of the Lincoln Heritage Museum and Postville Courthouse.

Lincoln Heritage Museum will also hand out information regarding an event on Nov. 28. As a follow-up to the weekend premiere of the movie's release, there will be an opportunity to further explore the film's historical merit and accuracy. Local Abraham Lincoln historians Paul Beaver, Ron Keller and Anne Suttles will present a panel discussion on Nov. 28 at 7 p.m. at the museum for a reflection and discussion of the "Lincoln" film. This question-and-answer session will give moviegoers an opportunity to discuss and dissect this film masterpiece. The panel discussion will be free and open to the public.

"Lincoln" showtimes of 2 p.m., 5 p.m. and 8 p.m. will be highlighted in local media listings and at Lincoln Theater 4 online at www.lincolntheater4.com.

For additional information, contact the Abraham Lincoln Tourism Bureau of Logan County at 217-732-8687 or admin@abe66.com.
---

Veterans and public invited to USO dance
A USO dance in Lincoln on Thursday will feature big-band-era entertainment from 6 to 8 p.m. at the American Legion.
Anyone is welcome to attend this special event, sponsored and hosted by the Healthy Communities Partnership and its Senior Issues Task Force. The 14-piece Jim Markum Swing Band is the featured entertainment for the evening. The Logan County Salvation Army is providing doughnuts.
Supporting America's troops was the first mission of the USO. In 1941, as it became clear that the nation was heading into World War II, several organizations mobilized and joined to form the United Service Organizations to support the growing U.S. military. These included The Salvation Army, Young Men's Christian Association, Young Women's Christian Association, National Catholic Community Services, National Travelers Aid Association and the National Jewish Welfare Board.
Decades later, thousands of USO workers and volunteers coordinate to provide a home away from home for U.S. troops, including bringing celebrities to entertain soldiers on the front line and keeping them connected to their families during deployments.
Seniors and veterans of all ages will receive free admission to the USO dance. Community members are also welcome to attend for $3 per person or $5 per couple.
The Healthy Communities Partnership is a collaborative organization comprised of dozens of community agencies. It is supported in part by the Abraham Lincoln Healthcare Foundation. For updates, like Healthy Communities Partnership on Facebook.
---

Electronics recycling at Habitat for Humanity Saturday
Habitat for Humanity of Logan County will have its monthly electronics recycling collection on Saturday from 9 a.m. to noon at the Habitat for Humanity warehouse, 915 Woodlawn Road.
The Logan County Habitat for Humanity affiliate has entered into a new partnership with Advanced Recycling, of Pontiac, to provide electronics recycling to the area. Televisions will continue to be accepted for recycling under this new partnership. The collection remains free of charge to the public.
The following items will be accepted:
Computer equipment, including laptop and desktop personal computers, hard drives, monitors, keyboards, printers, scanners, cords and cables, CD-ROM, DVD, Zip and tape drives.

Entertainment equipment, including TVs, radios, stereo and game systems, game controls, VCR and DVD players, and cameras.

Small business equipment, including phones, copiers, typewriters, fax machines and calculators.

Small household and countertop appliances will also be accepted, as well as aluminum, copper, brass and stainless steel items.
Electronic equipment is not to be left at the site and is not collected outside the hours of the collection.
Information on the electronics recycling is available through Habitat for Humanity of Logan County by contacting the office at 217-732-6412 or by visiting the agency website at www.habitatlogan.org.
---

Upcoming blood drives in Logan County
To help ensure an adequate blood supply for the region, the Central Illinois Community Blood Center is offering several opportunities to donate blood in Logan County.
Thursday, Nov. 15
Elkhart
Elkhart Christian Church, 113 S. Gillett; 3-6 p.m.

Atlanta
St. Mary's Catholic Church, 805 Pearl St.; noon-6 p.m.

Mount Pulaski
Mount Pulaski High School, 206 S. Spring; 8 a.m.-3 p.m.
For your convenience, call Alexis toll-free at 1-866-GIVE-BLD (1-866-448-3253), ext 5158, to sign up, or schedule an appointment online at www.bloodcenterimpact.org. Walk-ins are also welcome and truly appreciated.
Central Illinois Community Blood Center, a not-for-profit organization, is the provider of lifesaving blood for 14 hospitals throughout central Illinois, including Abraham Lincoln Memorial Hospital and Springfield's Memorial Medical Center and St. John's Hospital. CICBC is a division of the Mississippi Valley Regional Blood Center, which collects over 180,000 units of blood annually and serves 85 hospitals in Illinois, Iowa, Missouri and Wisconsin.
---

Jim Xamis Ford to host Humane Society fundraiser Nov. 15
Jim Xamis Ford is hosting a special event Nov. 15, from 4 to 8 p.m., that will benefit the Humane Society of Logan County.
During the evening, each person who registers as a guest for the event will generate a $10* donation by Ford to the Humane Society of Logan County, up to $500 total for the evening.
In addition, visitors have an opportunity to win some great prizes.
People who register and attend the event are automatically entered for a chance to win a 2013 Fusion courtesy of Ford Credit.
While there, they can also test their judging skills with "American Idol"** and possibly win a VIP experience at the show.
The evening will also include hors d'oeuvres and drinks, and a chance to see the new lineup from Ford, including the all-new, redesigned Ford Fusion.
Plus, guests can talk to volunteers from the Humane Society and learn how they can adopt a pet in need.
The Humane Society of Logan County is a not-for-profit agency that provides safe, loving, temporary shelter to animals in need. The society offers adoption programs so these animals can find new "forever homes." The HSLC pays for the cost of its work through the generosity of the community and hosts multiple fundraisers throughout the year to help keep this valuable service available.
For answers to questions about the Nov. 15 event, contact Jim Xamis Ford Lincoln, 2301 Woodlawn Road, 217-732-2111, www.jimxamisford.com, www.facebook.com/jimxamisford.
If you are interested in adopting a pet from the shelter, visit this link in Lincoln Daily News: http://reference.lincolndailynews.com/
animal%20adoption/humane_society.shtml,
[LDN; based on information received from Ellen Burbage, Humane Society of Logan County]
Disclaimers:
*Ford will contribute $10 per registered guest up to a maximum of $500.
**No purchase necessary. Complete rules available at www.gofurtherwithfordnight.com.
American Idol: ®/© 19 TV Ltd. and FremantleMedia North America. 2013 All rights reserved. www.americanidol.com.
Charitable donations are the sole responsibility of Ford, not American Idol® or related parties.
---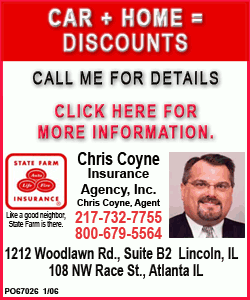 ---

Jaycees invite seniors to annual feast plus Schwan's fundraiser

The Lincoln Jaycees are now accepting reservations for their annual Senior Feast. The Jaycees will serve a free holiday-style meal with dessert on Saturday, Nov. 10, from 11 a.m. to 1 p.m. at the Masonic Center, 2022 N. Kickapoo St. The meal is available to seniors age 65 and up.

To make a reservation or to inquire about delivery options, call Meg Eckert at 217-220-2906.

The Lincoln Jaycees are also having a Schwan's truckload fundraiser that day at the Masonic Center. Stop by between 9 a.m. and noon to purchase your favorite Schwan's items, or pre-order to ensure product availability by contacting Kim at 217-871-4940.

The Lincoln Jaycees are a not-for-profit organization serving Lincoln and the surrounding communities. The Jaycees give young people between the ages of 18 and 40 the tools they need to build the bridges of success for themselves in the areas of business development, management skills, individual training, community service and international connections. Monthly membership meetings are at the Lincoln Jaycees Center, 325 S. Chicago St., on the third Thursday at 7 p.m., and are open to everyone.
---

United Methodist Men to host pancake breakfast

The United Methodist Men will host an all-you-can-eat pancake and sausage breakfast on Saturday, Nov. 10, from 7 to 11 a.m.

The event will be at the First United Methodist Church, 302 Broadway St. in Lincoln.

The cost per meal will be $7 for adults and $3 for children under 12. Carryouts will also be available. Please call 737-6507 before Nov. 10 to place orders

In addition, bulk sausage will be available for sale in 2-pound packages, and the United Methodist Women will have a bake sale.

Proceeds from this event will go to support UMM missions, including church camps, Together for Lincoln and youth mission trips.
---

Local women become part of new Golden Z Club charter

CHAMPAIGN -- A new service club for youth -- dedicated to providing career guidance and promoting leadership skills, international fellowship and the ideal of service -- was chartered on Oct. 27 at the I Hotel in Champaign. Zonta District 6 Gov. Linda Hiltabrand and Suzanne Leeke, District 6 Z Club/Golden Z Club chairman, presented the charter to the Golden Z Club. There are four charter members under the direction of the club's president, Elizabeth Kahle.

The University of Illinois Champaign Golden Z Club is one of the youth groups of Zonta International, the worldwide service organization of executives in business and the professions, working together to advance the status of women.

Golden Z Club members undertake service projects benefiting their school, community and the world. They promote the development of leadership ability and good character, and they strive for scholastic achievement and the improvement of international understanding through service.

The Golden Z Club in Champaign is the first in District 6, which includes Indiana, Illinois and Wisconsin.

Members of Zonta International support international service projects intended to advance the status of women, particularly in developing nations, and they fund the Amelia Earhart Fellowship awards, given annually to women pursuing graduate study in aerospace-related sciences and engineering. Zonta International enjoys nongovernmental organization status with the United Nations and consultative status with several of its agencies. As of spring 2011, there were approximately 30,000 Zontians belonging to more than 1,200 clubs in approximately 63 countries and geographic areas.
---

Lincoln Writer's Club to meet Nov. 13

Lincoln Writer's Club will meet Tuesday, Nov. 13, at 6:30 p.m. in the Alumni Room of the student center at Lincoln College.

Suggested topics: a Thanksgiving story, a "positive attitude" story, or a story about your children and their different temperaments.

For more info, call 732-2723. All are welcome.
---

Humane Society of Logan County offers holiday cookie trays

Planning holiday parties or looking for gifts to give special friends or relatives? Let the Humane Society of Logan County do your holiday baking. HSLC is once again taking orders for holiday cookie trays. Each tray will contain three dozen fancy holiday cookies with a variety of at least 12 different kinds of cookies.

The cost is still only $15 per tray. Larger trays are also available.

To place your orders, call Adrienne at 217-732-1979. The deadline for placing orders is Dec. 1.

Orders can be picked up on Dec. 8 at Graue Inc., 1905 N. Kickapoo St., from 9 a.m. to 3 p.m.

All proceeds benefit the Humane Society of Logan County.
---

Lincoln Low Vision Support Group meets Nov. 12

The Lincoln Low Vision Support Group will host a meeting Monday, Nov. 12, at the Lincoln Christian Church from 1 to 2 p.m.

The church is located at 204 N. McLean in Lincoln. Those attending should enter through the north door, under the canopy.

The Mary Bryant Home for the Blind will bring their store to the meeting and will have products for sale, making it a good time to do a little Christmas shopping.

In Logan County, transportation to the meeting is available by contacting Logan Mason Public Transportation at 732-2159 or toll-free at 866-930-8212. (LMPT rate schedule)

If you have any questions, contact Sandy at 732-6528.
---

City of Lincoln leaf pickup dates announced

The city of Lincoln will provide leaf pickup services for residents again this year. Pickup days will be by ward and will run beginning next week through Dec. 3.

Only biodegradable bags of leaves will be picked up. Bags must be at the curb by 7 a.m. each day.

Leaf pickup dates:
Ward 1 -- Oct. 29, Nov. 9, Nov. 21

Ward 2 -- Oct. 31, Nov. 13, Nov. 26

Ward 3 -- Nov. 2, Nov. 14, Nov. 28

Ward 4 -- Nov. 5, Nov. 16, Nov. 30

Ward 5 -- Nov. 7, Nov. 19, Dec. 3
For those who wish to bring their leaves directly to the landscape waste facility, it is currently open Monday through Saturday from 8 a.m. until 3:50 p.m. for all landscape waste. This will continue until Nov. 21.

On Nov. 24 the facility will return to regular hours: Wednesday and Saturdays, 8 a.m.-3:50 p.m.
---

Christian Village to host annual fall festival Nov. 10

The Christian Village in Lincoln invites everyone to join them on Saturday, Nov. 10, for their annual fall festival.

It will be a day of fun and games, food, and family activities and entertainment.

Among the list of activities are face painting, pumpkin painting and a chance to have a fall family portrait taken.

Live music will be presented from 11 a.m. to 1 p.m., and a choice of chili or pork chop lunch will be served from 11 to 2.

Other activities included in the day are hayrack rides, a craft and bake sale, facility tours and more.

(See publicity.)
---

Elkhart Historical Society presents 'Christmas According to Hollywood'

ELKHART -- In early November, the Elkhart Historical Society will present "Christmas According to Hollywood." The presentation will explore favorite Christmas movies and some little-known facts about them in an evening of relaxation, laughter and a meal at the Wild Hare Café before the holiday rush begins.

The event will be on Nov. 9 at 5:30 p.m.

Each Christmas we immerse ourselves in sentimentality brought to us courtesy of Hollywood. The modern history of Christmas has included many sentimental, poignant and funny movies, from Jimmy Stewart in "It's a Wonderful Life" to Bing Crosby and Danny Kaye in "White Christmas." We enjoy watching Scrooge from "A Christmas Carol" and the eternally optimistic, yet cursed Clark Griswold from "National Lampoon's Christmas Vacation." Who can forget "A Christmas Story" with Darren McGavin and the reminiscing about that first BB gun and sometimes a "confession" to admiring or even owning the leg lamp that gave McGavin's character so much delight.

The cost for the evening is $25 per person.

For reservations, call 217-947-2238. Reservation forms may be downloaded from www.elkharthistoricalsociety.org, or pick up a reservation form at Horsefeathers in Elkhart.
---