John McCullough
[October 31, 2012] LINCOLN -- John T. McCullough, fondly referred to as "the Judge," 81, of Lincoln, died Tuesday, Oct. 30, 2012, at his home.
(Below is a copy of the obituary from the funeral home.)
___
Lincoln-Justice John T. McCullough; fondly referred to as "The Judge", 81, of Lincoln, IL, passed away at his home on Tuesday, October 30, 2012.
Born June 15, 1931 in Streator, IL, he was the son of Mark and Margaret Manes McCullough, the youngest of four children. His family moved to Lincoln when he was 10 years old, where he remained in the town he loved.
The Judge was educated at Lincoln College and the University of Illinois College of Law (J.D., 1955) and served in the U.S. Army (1955-57). Following four years in private practice, he was elected county judge in 1962 and through transition became resident Circuit Judge; he was elected Chief Judge of the 11th Judicial Circuit in 1974 and served in that position until his election to the Fourth District Appellate Court in 1984, where he served for the past 28 years. In addition to his regular judicial duties, he served 22 years on the Workers' Compensation Commission for the Appellate Court, and was elected by his peers as the Presiding Justice of the Commission for each of those years. Serving on this Commission allowed him to work with judges from every district in the State, something he enjoyed immensely. The law was his passion. He was recently notified that he had been awarded the Distinguished Service Award by the Illinois Judges Association. Justice McCullough was the longest serving judge in Illinois history, serving 50 years on the bench.
The Judge demanded absolute respect for the judicial system in the court room. Out of the court room, he was always willing to lend a hand but was reluctant to accept one. He took his work seriously but always had time to hear or tell a good joke. If he let you into his life, you were a friend; but he never let you know everything. He was exceedingly loyal to his profession, friends, and family; enjoyed a good game of golf and the companionship of the 19th hole.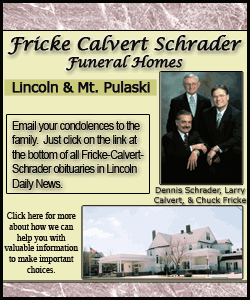 A private man, he enjoyed being in the public and meeting strangers from all walks of life. He recognized the true treasures at charity auctions or bazaars, bought them, and then proudly displayed them in his office. A very generous man, he spent little on himself, but would give money or even the coat off his back to anyone in need (which he did in the mid 1960s, when he gave his coat to an Airman hitchhiking along Rte 66). Despite doctors saving his life following an accident as a young man (an accident that gave him his trademark flat nose), he shied away from the medical profession and hospitals. The Judge lived on his own terms.
Justice McCullough is survived by his five daughters, Shawn McCullough (Randa Paver) of Alexandria, VA; Bridget McCullough (Steve Weaver) of Mt. Airy, MD; Molly McCullough Davidson of Cobden, IL; Annie (Al) Webster of Charlotte, NC; Katie McCullough of Madison, WI, his sister, Nancy McCullough of Holt, MI; his sister-in-law, Connie McCullough of Lincoln; and six grandchildren; Maggie (Scott), Joe, Anna, Emma, Hannah and John. He valued the friendship of those with whom he shared his everyday life: colleagues and friends from the Illinois Judicial System; Alley-Bi, Character's, Wendy's, Elks, KofC, The American Legion, The Recreation Center, all in Lincoln; Double H and Final Four in Sherman, IL; Weebles in Springfield, IL; the snowbirds and locals from Ft Myers, FL and everyone else that cannot be defined by a location.
He is preceded in death by his parents and two brothers; Joe, Pittsburg, PA; and Bing, Lincoln.
The rosary will be said at 10:30 am, Nov 24, 2012; followed by a memorial service at 11:00 am, both to held at Holy Family Catholic Church, 316 S Logan St, Lincoln, IL 62656. Continuing on Nov 24, from 2:00 – 5:00 pm, A Celebration of the Judge's Life will be held at the Elks, 1020 1525th St, Lincoln, IL 62656. Everyone is invited. Interment will be private. In lieu of flowers memorials may be made to Carroll Catholic School, 111 Fourth St., Lincoln, IL 62656 or Elks Charitable Trust 914 (formerly known as the Crippled Children's Fund), Box 875, Lincoln, IL 62656.
Services are being handled by Fricke-Calvert-Schrader Funeral Home in Lincoln.