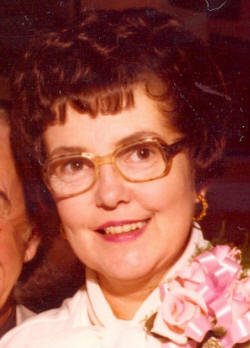 Louise Colby Davis
[November 06, 2012] LINCOLN -- Louise E. Coates Colby Davis, 86, of Lincoln, died Tuesday, Nov. 6, 2012, at 11:37 a.m. at St. Clara's Manor.
(Below is a copy of the obituary from the funeral home.)
___
Lincoln-Louise E. Coates Colby Davis, age 86, of Lincoln, died at 11:37 A.M. November 6, 2012 at St. Clara's Manor.
Louise was born October 23, 1926 in Lincoln, IL, the daughter of Otis and Cora Wieber Coates. She was united in marriage to Harvey M. Davis on October 9, 1974 in Elkhart, IL. He preceded her in death on June 18, 2006.
Louise was a retired registered nurse and a homemaker.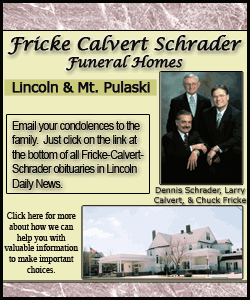 Louise is survived by one son: Thomas (Hallie) Colby of Springfield, IL, four daughters: Barbara (Jeff) Pirmann of Springfield, IL, Carol (Dean) Kaesebier of Fairhope, Alabama, Ann (Bob Bishop) Reichle of Lincoln, IL, and Joy (Terry) Blum of Tabernash, Colorado, two sisters, Marian Haseley of Lincoln, IL and Lois Mayberry of Oskaloosa, IA, eight grandchildren: Tara (Jeff) Kaesebier Zuerlein, Joy (Danny) Gould, Alexa Colby, Beth (Jason) Stephens, Stephanie (Jill Ambroson) Reichle, Todd (Margaret) Blum, Emily (Tyler) Winters, and Tim Pirmann, fourteen great grandchildren: Chelsea, Amber, Adam, Kyle, Colby, Eli, Cooper, Luke, Quinn, Lilliana, Michael, Cierra, Ariana and Nolan.
She was preceded in death by her parents and husband.
Funeral services for Louise will be at 11:00 A.M., Thursday, November 8, 2012 at Zion Lutheran Church, Lincoln. Burial will be in Mt. Pulaski Cemetery, Mt. Pulaski, IL. Visitation will be from 9-11 A.M. on Thursday prior to the service at the church. Arrangements by Fricke-Calvert-Schrader Funeral Home in Lincoln, IL. Memorials may be made to St. John's School of Nursing or Zion Lutheran School.