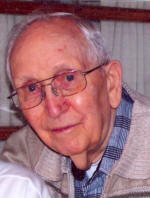 Eldon 'Joe' Mallinson
[November 12, 2012] LINCOLN -- Eldon L. "Joe" Mallinson, 95, of Lincoln, died Sunday, Nov. 11, 2012, at 10:45 a.m. at St. Clara's Manor.
(Below is a copy of the obituary from the funeral home.)
___
Lincoln-Eldon L. "Joe" Mallinson, age 95, of Lincoln died at 10:45 A.M. on Sunday, November 11, 2012 at St. Clara's Manor in Lincoln, IL.
Eldon was born on August 5, 1917 in Yale, IL, the son of Carl W. and Cora Mae Freeman Mallinson. He was united in marriage to Lucille Spurling on December 17, 1947 in Lincoln, IL. She preceded him in death September 9, 2010.
Eldon is survived by two daughters: Patricia (John) Aper and Carla (Claude) Van Fossan both of Lincoln, IL, four grandchildren, nine and two step great grandchildren. Eldon was the last of his immediate family. He was preceded in death by three brothers: Freeman, James and Ray C. Freeman and one sister: Geneva K. Boyd.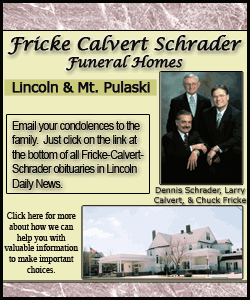 Eldon retired in 1979 from Lincoln Community High School where he worked as a custodian and bus driver. He was a member of First Baptist Church of Lincoln. He was a Navy veteran of W.W. #2 and a member of Veterans of Foreign Wars #1756.
Services for Eldon will be on Wednesday, November 14, 2012 at 10:30 a.m. at Fricke-Calvert-Schrader Funeral Home in Lincoln with Ron Otto officiating. Burial will be in Zion Cemetery with full military rites accorded by American Legion Post # 263. Visitation will be from 5:00-7:00 p.m. on Tuesday, Nov. 13 at the funeral home. Memorials may be made to St. Jude's Children's Research Hospital.