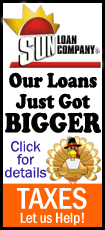 Shena Hardin was caught driving on a sidewalk to pass a school bus unloading children in September.
Judge Pinkey Carr had ordered her to spend part of two mornings holding a sign that says, "Only an idiot would drive on the sidewalk to avoid a school bus."
Hardin puffed on a cigarette, wore headphones and ignored passers-by while standing with the sign on a street corner Tuesday. The judge tells WKYC-TV (http://on.wkyc.com/T2hkly) she feels Hardin wasn't sufficiently holding up the sign and was "missing the point."
The judge plans to supervise Hardin on Wednesday.
___
Information from: WKYC-TV, http://www.wkyc.com/