Nov. 24 is nationally recognized as Small Business Saturday. This event falls between Black Friday and Cyber Monday and is dedicated to supporting small business in our communities. Shoppers are encouraged to continue their power shopping of Black Friday in downtown Lincoln, finding specials and bargains throughout.

On Nov 29, Main Street Lincoln and the city of Lincoln co-sponsor the annual Christmas parade. This year's theme is "Sending Holiday Greetings to Your Loved Ones" to honor the 100th anniversary of the Lincoln post office. Entries are being accepted through Nov. 23. The parade will kick off at 5:30 p.m. and take the same route as previous years. Prizes in many categories will be given. Following the parade, the Oasis Senior Center will host a chili and soup supper, along with craft items available, and Mr. Claus will be on hand for the children.

Throughout December, historic downtown Lincoln will be alive with the hustle and bustle of shopping and holiday cheer. Santa will make appearances throughout downtown Dec. 8, 15 and 22, with exact locations to be announced soon. Shoppers can enjoy the convenience and pride of shopping locally.

Main Street Lincoln, a volunteer-driven organization, is pleased to participate in the holiday shopping season, promoting our eateries, antique stores, thrift stores, one-of-a-kind shops, night life and entertainment, along with plenty of services and businesses.

For more information on any of these events, the Main Street Lincoln organization can be reached at 217-732-2929 or manager@mainstreetlincoln.com. Also, information and business specials are available online at https://www.facebook.com/MainStreetLincoln.
---

Join Open Arms Christian Fellowship for a Thanksgiving feast Sunday
Pastor Larry Crawford and the congregation of the Open Arms Christian Fellowship invite the public to join them for a Thanksgiving feast on Sunday.
The meal will be offered free of charge to anyone who wishes to attend. The church is at 311 Broadway St. in Lincoln. Serving will begin at 5 p.m.
---

Women's Thankoffering Sunday at Immanuel
Sunday will be observed as Women's Thankoffering Sunday at Immanuel Lutheran Church.
Thankoffering donations that the women collect are used for special ministries, including programs for children in crisis; anti-racism education; funds for the Women of the ELCA scholarship committee, which helps women all over the country complete their higher education, change careers or grow in leadership; Lutheran World Relief; Lutheran Disaster Response; World Day of Prayer; and ministries of the Evangelical Lutheran Church in America, such as World Hunger and Global Mission.
Women will conduct the morning worship service, with Marilyn Weingarz, S.A.M., preaching.
---

Girl Scouts and Marines host Toys for Tots drive Saturday
Lincoln Girl Scout Troop 6053 and the Marine Corps will host a Toys for Tots toy drive outside the Wal-Mart store on Lincoln's west side Saturday, Nov. 17, from 10 a.m. to 2 p.m.
The girls would appreciate anyone who wishes to donate a new, unwrapped toy for either a boy or a girl.
The Toys for Tots campaign will benefit local children this Christmas season by providing them with a gift under their tree.
As Christmastime approaches, the Marines will host a day of giving when parents can receive gifts to wrap and put under the tree. More information on the distribution day will be published at a later date.
___
Online: Toys for Tots
---

Elkhart Historical Society announces December events
ELKHART -- Elkhart Historical Society's annual Candlelight Chapel Service at St. John the Baptist Chapel will be on Saturday, Dec. 1, at 2 p.m., 4 p.m., 5:30 p.m. and 8 p.m.
Dining options are available before or after the services:
Make your service reservations by calling 217-947-2238; then go to the Elkhart Historical Society website, www.elkharthistoricalsociety.org, and download a reservation form, or stop by Horsefeathers in Elkhart to pick up a form. Reservations are limited.
Dinner reservation forms are also available at www.elkharthistoricalsociety.org.
On Friday, Dec. 7, at 7 p.m., the Elkhart Historical Society will present a book signing for "Lincoln's Ladder to the Presidency: The Eighth Judicial Circuit" at Horsefeathers in Elkhart. Refreshments will be served.
Lincoln experts have called this new book superb, richly detailed and an effective lesson in the importance of political networking. This is the perfect time to obtain a signed copy of Guy Fraker's new book just in time for Christmas giving. Further information regarding the author and his book is available at www.lincolnsladder.com.
---

"Lincoln" movie premieres in Lincoln at Lincoln Theater 4
Lincoln Theater 4 will present Steven Spielberg's latest epic, "Lincoln," beginning on Nov. 16. This movie, which was more than 10 years in the making, stars Daniel Day-Lewis as U.S. President Abraham Lincoln and Sally Field as Mary Todd Lincoln. Evening shows and activities are planned for opening night, allowing the community named for Lincoln by Lincoln to come out and enjoy history as it comes alive on the big screen.
The star-studded cast also includes Tommy Lee Jones, Hal Holbrook and John Hawkes, the latter portraying Robert Latham. Robert Latham was an original developer of the town of Lincoln, working side by side with Lincoln during the plotting of the town and its christening. Latham was also one of the primary developers of Lincoln College, and the town of Latham in Logan County bears his name. His portrait is located in the rotunda of the historic Logan County Courthouse, along with the other founding fathers.
The film is based on "Team of Rivals: The Political Genius of Abraham Lincoln," a biography by Doris Kearns Goodwin. The movie covers a four-month period at the end of Lincoln's life as the president attempts to get Congress to pass the 13th Amendment, abolishing slavery. The film's release coincides with the 150th anniversary of the issuance of the Emancipation Proclamation.
The opening night of "Lincoln" in Lincoln will be a grand red-carpet affair, as moviegoers attending the 5 p.m. show are greeted by Lincoln and the Lady, portrayed by Chris Hotz and Deborah Senger of Timeless Presentations. Timeless Presentations was created in 2008 by the two of them, originally as Abe and Mary Lincoln, featuring walks, step-on tours, presentations and appearances as an avenue to provide historic entertainment for central Illinois. Together they share a striking resemblance to the famous couple and will greet guests entering the historic Lincoln Theater 4. Everyone is invited to dress in period attire, and photo opportunities will be available with President Lincoln and the first lady along the red carpet prior to entering the theater to enjoy the movie. Lincoln and the Lady will also be on hand to greet guests and for photos prior to the 8 p.m. showing.
Lincoln Theater 4 was built in 1923 and has had multiple owners over the years until Lincoln native David Lanterman purchased it in January 2011. The largest of the four theaters seats about 175, with the others approximately 130. Lanterman has been busy changing the theater technology from 35-millimeter film into a digital format, which was completed in March.
Patrons of the Nov. 16 showing at Lincoln Theater 4 can receive information that night detailing the unique connection of Abraham Lincoln to the city of Lincoln and can obtain special gift offers courtesy of the Lincoln Heritage Museum and Postville Courthouse.
Lincoln Heritage Museum will also hand out information regarding an event on Nov. 28. As a follow-up to the weekend premiere of the movie's release, there will be an opportunity to further explore the film's historical merit and accuracy. Local Abraham Lincoln historians Paul Beaver, Ron Keller and Anne Suttles will present a panel discussion on Nov. 28 at 7 p.m. at the museum for a reflection and discussion of the "Lincoln" film. This question-and-answer session will give moviegoers an opportunity to discuss and dissect this film masterpiece. The panel discussion will be free and open to the public.
"Lincoln" showtimes of 2 p.m., 5 p.m. and 8 p.m. will be highlighted in local media listings and at Lincoln Theater 4 online at www.lincolntheater4.com.
For additional information, contact the Abraham Lincoln Tourism Bureau of Logan County at 217-732-8687 or admin@abe66.com.
---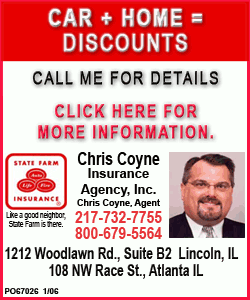 ---

Upcoming blood drives in Logan County

To help ensure an adequate blood supply for the region, the Central Illinois Community Blood Center is offering several opportunities to donate blood in Logan County.

Thursday, Nov. 15
Elkhart
Elkhart Christian Church, 113 S. Gillett; 3-6 p.m.

Atlanta
St. Mary's Catholic Church, 805 Pearl St.; noon-6 p.m.

Mount Pulaski
Mount Pulaski High School, 206 S. Spring; 8 a.m.-3 p.m.
For your convenience, call Alexis toll-free at 1-866-GIVE-BLD (1-866-448-3253), ext 5158, to sign up, or schedule an appointment online at www.bloodcenterimpact.org. Walk-ins are also welcome and truly appreciated.

Central Illinois Community Blood Center, a not-for-profit organization, is the provider of lifesaving blood for 14 hospitals throughout central Illinois, including Abraham Lincoln Memorial Hospital and Springfield's Memorial Medical Center and St. John's Hospital. CICBC is a division of the Mississippi Valley Regional Blood Center, which collects over 180,000 units of blood annually and serves 85 hospitals in Illinois, Iowa, Missouri and Wisconsin.
---

Jim Xamis Ford to host Humane Society fundraiser Nov. 15

Jim Xamis Ford is hosting a special event Nov. 15, from 4 to 8 p.m., that will benefit the Humane Society of Logan County.

During the evening, each person who registers as a guest for the event will generate a $10* donation by Ford to the Humane Society of Logan County, up to $500 total for the evening.

In addition, visitors have an opportunity to win some great prizes.

People who register and attend the event are automatically entered for a chance to win a 2013 Fusion courtesy of Ford Credit.

While there, they can also test their judging skills with "American Idol"** and possibly win a VIP experience at the show.

The evening will also include hors d'oeuvres and drinks, and a chance to see the new lineup from Ford, including the all-new, redesigned Ford Fusion.

Plus, guests can talk to volunteers from the Humane Society and learn how they can adopt a pet in need.

The Humane Society of Logan County is a not-for-profit agency that provides safe, loving, temporary shelter to animals in need. The society offers adoption programs so these animals can find new "forever homes." The HSLC pays for the cost of its work through the generosity of the community and hosts multiple fundraisers throughout the year to help keep this valuable service available.

For answers to questions about the Nov. 15 event, contact Jim Xamis Ford Lincoln, 2301 Woodlawn Road, 217-732-2111, www.jimxamisford.com, www.facebook.com/jimxamisford.

If you are interested in adopting a pet from the shelter, visit this link in Lincoln Daily News: http://reference.lincolndailynews.com/
animal%20adoption/humane_society.shtml,

[LDN; based on information received from Ellen Burbage, Humane Society of Logan County]

Disclaimers:

*Ford will contribute $10 per registered guest up to a maximum of $500.

**No purchase necessary. Complete rules available at www.gofurtherwithfordnight.com.

American Idol: ®/© 19 TV Ltd. and FremantleMedia North America. 2013 All rights reserved. www.americanidol.com.

Charitable donations are the sole responsibility of Ford, not American Idol® or related parties.
---

Humane Society of Logan County offers holiday cookie trays

Planning holiday parties or looking for gifts to give special friends or relatives? Let the Humane Society of Logan County do your holiday baking. HSLC is once again taking orders for holiday cookie trays. Each tray will contain three dozen fancy holiday cookies with a variety of at least 12 different kinds of cookies.

The cost is still only $15 per tray. Larger trays are also available.

To place your orders, call Adrienne at 217-732-1979. The deadline for placing orders is Dec. 1.

Orders can be picked up on Dec. 8 at Graue Inc., 1905 N. Kickapoo St., from 9 a.m. to 3 p.m.

All proceeds benefit the Humane Society of Logan County.
---

City of Lincoln leaf pickup dates announced

The city of Lincoln will provide leaf pickup services for residents again this year. Pickup days will be by ward and will run beginning next week through Dec. 3.

Only biodegradable bags of leaves will be picked up. Bags must be at the curb by 7 a.m. each day.

Leaf pickup dates:
Ward 1 -- Oct. 29, Nov. 9, Nov. 21

Ward 2 -- Oct. 31, Nov. 13, Nov. 26

Ward 3 -- Nov. 2, Nov. 14, Nov. 28

Ward 4 -- Nov. 5, Nov. 16, Nov. 30

Ward 5 -- Nov. 7, Nov. 19, Dec. 3
For those who wish to bring their leaves directly to the landscape waste facility, it is currently open Monday through Saturday from 8 a.m. until 3:50 p.m. for all landscape waste. This will continue until Nov. 21.

On Nov. 24 the facility will return to regular hours: Wednesday and Saturdays, 8 a.m.-3:50 p.m.
---