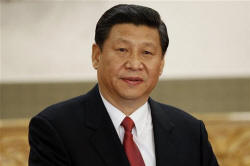 A look at China's new leaders in apex ruling body

Send a link to a friend
[November 15, 2012] BEIJING -- China's once-in-a-decade power transition crested Thursday with 59-year-old Xi Jinping taking over as the general secretary of the ruling Communist Party. He will be assisted by six technocrats in the Standing Committee, the apex of power in China. Here are the new leaders in order of how they were presented at Beijing's Great Hall of the People.
Xi Jinping: The new party leader is seen as a pro-market reformer and a staunch believer in party power. The son of a veteran revolutionary, Xi spent much of his career in economically vibrant provinces. Little known abroad, Xi took a side trip during a key visit to the U.S. this year to meet privately with the Iowans who had hosted him on a 1985 study tour when he was a mid-level provincial official in charge of the pork industry.
Li Keqiang: Expected to be the next premier, Li, 57, is a protege of outgoing President Hu Jintao. The two worked together in the Communist Youth League in the 1980s. Hu initially wanted Li to succeed him as party chief before accepting Xi. Li ran two important industrial provinces, and as vice-premier his portfolio includes health reforms, energy and food safety. Still, questions of inexperience on economy have dogged him as he prepares to take the post of premier, the top economy job in the country.
Zhang Dejiang: A vice premier who was called on to run the mega-city of Chongqing after the ouster of the ambitious but tainted Bo Xilai, Zhang is seen as a capable, low-key administrator. The son of a former army general, Zhang, 66, ran two economic powerhouse provinces and oversaw safety issues in recent years as a vice-premier. A Korean speaker, Zhang studied economics at North Korea's Kim Il Sung University and is an ally of party elder Jiang Zemin.
Yu Zhengsheng: Yu, 67, is a member of the red elite, but with a problematic family history. His brother, an official in the secret police, defected to the U.S. in the mid-1980s. Yu's pedigree helped salvage his career. His father was the ex-husband of a woman who later married Mao Zedong. A missile engineer by training, Yu has run the financial hub of Shanghai since 2007. His family connections to patriarch Deng Xiaoping kept his name in the running for promotion to the top leadership.