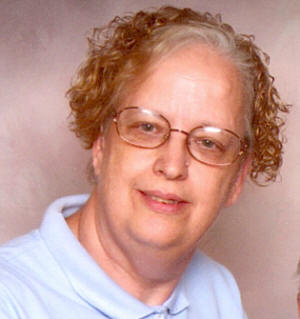 Pamela Bacon
[November 13, 2012] LINCOLN -- Pamela "Pam" J. Bacon, 63, of Lincoln, died Monday, Nov. 12, 2012, at 3:05 a.m. at Memorial Medical Center in Springfield.
(Below is a copy of the obituary from the funeral home.)
___
LINCOLN-Pamela "Pam" Bacon, 63, of Lincoln, Illinois died Monday, November 12, 2012 at Memorial Medical Center, Springfield, Illinois.
Pam was born June 11, 1949 in Tuscola, IL, the daughter of Dorothy Dains and William Davis. She married Robert Bacon on September 20, 1968 in Elkhart, Illinois.
She was a retired LPN and enjoyed sewing and knitting plus spending time with her two schnauzers.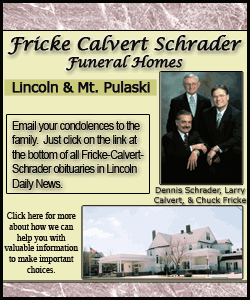 Pam is survived by her husband of 44 years, Robert, of Lincoln, IL; children James Bacon, Stephanie Bacon, both of Lincoln, IL; her grandsons, Stephen Bacon-Presswood of Lincoln, IL, Daniel Bacon and Kenneth Bacon of New Holland, IL; her brothers, John (Sandy) Davis of Johnson, Iowa; Tom (Brenda) Davis of Pleasant Hills, Missouri; sister, Sherri (Chuck, Jr.) Powell of Williamsville, IL. She was preceded in death by her parents, and brother-in-law.
Visitation will be Wednesday, November 14 from 5:00-7:00 p.m. at Fricke-Calvert-Schrader Funeral Home, Lincoln. Funeral service will be Thursday, Nov. 15 at 11:00 a.m. at the funeral home with Tom Ewald officiating. Burial will be in Zion Cemetery, Lincoln, IL. Memorials may be given to American Cancer Society.