Barbara Stroud-Borth, a retired pastor, has wanted to bring the beautiful imported, handmade crafts to Christmas on Vinegar Hill since she moved to Mount Pulaski 5 1/2 years ago. The items are ordered on consignment, so she is hoping to have nothing to send back.
The goal of the people from SERRV has long been to help poor people work to get out of poverty in many countries. Receiving a fair wage for their crafts helps them feed their families and send their children to school.
Everyone is invited to come find a Christmas present from among the Nativity sets, ornaments, baskets, jewelry, musical instruments, puzzles, baskets, fair trade coffee and Divine Chocolate.
---
Lincoln Jaycees Angel Tree project under way now
The annual Lincoln Jaycees Angel Tree is under way. The Angel Tree is a project to help the less fortunate children of Logan County. Tags with these children's names are placed on "Angel Trees" around the county. Employees or customers then pick a child from the names on the tree and buy them gifts. The Lincoln Jaycees distribute these gifts to the families in time for Christmas.
The public can find the Angel Trees at the following locations: Cracker Barrel, ALMH cafeteria, CEFCU, Blades Hair Salon, Illini Bank, Daisy's Hair and Nail Salon, and State Bank of Lincoln. Trees are also located at Eaton, Family Medical Center, Verallia, Sysco and International Paper for their employees.
Gifts need returned to businesses by Dec. 10.
The Lincoln Jaycees purchase gifts to go with any names not picked from the trees. If you would like to make a monetary donation, send it to: Lincoln Jaycees, P.O. Box 254, Lincoln, IL 62656.
Gift pickup will be at the Lincoln Jaycees Center, 325 S. Chicago St., on Dec. 15, 9 a.m.-noon and 1-4 p.m.
The Lincoln Jaycees are a not-for-profit organization serving Lincoln and the surrounding communities. The Lincoln Jaycees give young people between the ages of 18 and 40 the tools they need to build the bridges of success for themselves in the areas of business development, management skills, individual training, community service and international connections. Membership meetings are on the third Thursday of each month at 7 p.m. at the Lincoln Jaycees Center, 325 S. Chicago St., and are open to everyone.
---
Society to host program on local transit line Monday
The Logan County Genealogical and Historical Society's November membership program will be on Monday, beginning at 6:30 p.m., at 114 N. Chicago St. in Lincoln.
Dale Jenkins, president of the Illinois Traction Society, will present a program on the Illinois Terminal Railroad, known as the interurban rail system, that connected small communities in central Illinois with each other and, ultimately, with St. Louis, Mo. The system, in place from 1895 to 1981, was unique in that it used an electric rail.
While covering the history and features of the system, Jenkins' program will focus mainly on a line that ran through the Logan County towns of Union, Lincoln and Elkhart. The information will include pictures and background on the depot in Union, which is one of only two IT depots that still stand as reminders of the old line's trail.
---
Main Street Lincoln presents Christmas parade and holiday fun in historic downtown Lincoln
Main Street Lincoln invites the public to enjoy historic downtown Lincoln throughout the holiday season. With the height of the holiday season fast approaching, downtown businesses are readying for shoppers.
Nov. 24 is nationally recognized as Small Business Saturday. This event falls between Black Friday and Cyber Monday and is dedicated to supporting small business in our communities. Shoppers are encouraged to continue their power shopping of Black Friday in downtown Lincoln, finding specials and bargains throughout.
On Nov 29, Main Street Lincoln and the city of Lincoln co-sponsor the annual Christmas parade. This year's theme is "Sending Holiday Greetings to Your Loved Ones" to honor the 100th anniversary of the Lincoln post office. Entries are being accepted through Nov. 23. The parade will kick off at 5:30 p.m. and take the same route as previous years. Prizes in many categories will be given. Following the parade, the Oasis Senior Center will host a chili and soup supper, along with craft items available, and Mr. Claus will be on hand for the children.
Throughout December, historic downtown Lincoln will be alive with the hustle and bustle of shopping and holiday cheer. Santa will make appearances throughout downtown Dec. 8, 15 and 22, with exact locations to be announced soon. Shoppers can enjoy the convenience and pride of shopping locally.
Main Street Lincoln, a volunteer-driven organization, is pleased to participate in the holiday shopping season, promoting our eateries, antique stores, thrift stores, one-of-a-kind shops, night life and entertainment, along with plenty of services and businesses.
For more information on any of these events, the Main Street Lincoln organization can be reached at 217-732-2929 or manager@mainstreetlincoln.com. Also, information and business specials are available online at https://www.facebook.com/MainStreetLincoln.
---
Join Open Arms Christian Fellowship for a Thanksgiving feast Sunday
Pastor Larry Crawford and the congregation of the Open Arms Christian Fellowship invite the public to join them for a Thanksgiving feast on Sunday.
The meal will be offered free of charge to anyone who wishes to attend. The church is at 311 Broadway St. in Lincoln. Serving will begin at 5 p.m.
---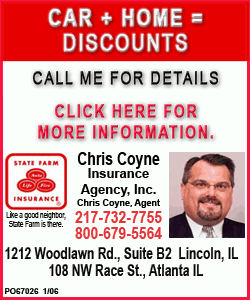 ---
Women's Thankoffering Sunday at Immanuel

Sunday will be observed as Women's Thankoffering Sunday at Immanuel Lutheran Church.

Thankoffering donations that the women collect are used for special ministries, including programs for children in crisis; anti-racism education; funds for the Women of the ELCA scholarship committee, which helps women all over the country complete their higher education, change careers or grow in leadership; Lutheran World Relief; Lutheran Disaster Response; World Day of Prayer; and ministries of the Evangelical Lutheran Church in America, such as World Hunger and Global Mission.

Women will conduct the morning worship service, with Marilyn Weingarz, S.A.M., preaching.
---
Girl Scouts and Marines host Toys for Tots drive Saturday

Lincoln Girl Scout Troop 6053 and the Marine Corps will host a Toys for Tots toy drive outside the Wal-Mart store on Lincoln's west side Saturday, Nov. 17, from 10 a.m. to 2 p.m.

The girls would appreciate anyone who wishes to donate a new, unwrapped toy for either a boy or a girl.

The Toys for Tots campaign will benefit local children this Christmas season by providing them with a gift under their tree.

As Christmastime approaches, the Marines will host a day of giving when parents can receive gifts to wrap and put under the tree. More information on the distribution day will be published at a later date.

___

Online: Toys for Tots
---
Elkhart Historical Society announces December events

ELKHART -- Elkhart Historical Society's annual Candlelight Chapel Service at St. John the Baptist Chapel will be on Saturday, Dec. 1, at 2 p.m., 4 p.m., 5:30 p.m. and 8 p.m.

Dining options are available before or after the services:

Make your service reservations by calling 217-947-2238; then go to the Elkhart Historical Society website, www.elkharthistoricalsociety.org, and download a reservation form, or stop by Horsefeathers in Elkhart to pick up a form. Reservations are limited.

Dinner reservation forms are also available at www.elkharthistoricalsociety.org.

On Friday, Dec. 7, at 7 p.m., the Elkhart Historical Society will present a book signing for "Lincoln's Ladder to the Presidency: The Eighth Judicial Circuit" at Horsefeathers in Elkhart. Refreshments will be served.

Lincoln experts have called this new book superb, richly detailed and an effective lesson in the importance of political networking. This is the perfect time to obtain a signed copy of Guy Fraker's new book just in time for Christmas giving. Further information regarding the author and his book is available at www.lincolnsladder.com.
---
Humane Society of Logan County offers holiday cookie trays

Planning holiday parties or looking for gifts to give special friends or relatives? Let the Humane Society of Logan County do your holiday baking. HSLC is once again taking orders for holiday cookie trays. Each tray will contain three dozen fancy holiday cookies with a variety of at least 12 different kinds of cookies.

The cost is still only $15 per tray. Larger trays are also available.

To place your orders, call Adrienne at 217-732-1979. The deadline for placing orders is Dec. 1.

Orders can be picked up on Dec. 8 at Graue Inc., 1905 N. Kickapoo St., from 9 a.m. to 3 p.m.

All proceeds benefit the Humane Society of Logan County.
---
City of Lincoln leaf pickup dates announced

The city of Lincoln will provide leaf pickup services for residents again this year. Pickup days will be by ward and will run beginning next week through Dec. 3.

Only biodegradable bags of leaves will be picked up. Bags must be at the curb by 7 a.m. each day.

Leaf pickup dates:
Ward 1 -- Oct. 29, Nov. 9, Nov. 21

Ward 2 -- Oct. 31, Nov. 13, Nov. 26

Ward 3 -- Nov. 2, Nov. 14, Nov. 28

Ward 4 -- Nov. 5, Nov. 16, Nov. 30

Ward 5 -- Nov. 7, Nov. 19, Dec. 3
For those who wish to bring their leaves directly to the landscape waste facility, it is currently open Monday through Saturday from 8 a.m. until 3:50 p.m. for all landscape waste. This will continue until Nov. 21.

On Nov. 24 the facility will return to regular hours: Wednesday and Saturdays, 8 a.m.-3:50 p.m.
---