Elkhart Historical Society announces December events

Send a link to a friend
[November 16, 2012] ELKHART -- Elkhart Historical Society's annual Candlelight Chapel Service at St. John the Baptist Chapel will be on Saturday, Dec. 1, at 2 p.m., 4 p.m., 5:30 p.m. and 8 p.m.
Dining options are available before or after the services:
Make your service reservations by calling 217-947-2238; then go to the Elkhart Historical Society website, www.elkharthistoricalsociety.org, and download a reservation form, or stop by Horsefeathers in Elkhart to pick up a form. Reservations are limited.
Dinner reservation forms are also available at www.elkharthistoricalsociety.org.
On Friday, Dec. 7, at 7 p.m., the Elkhart Historical Society will present a book signing for "Lincoln's Ladder to the Presidency: The Eighth Judicial Circuit" at Horsefeathers in Elkhart. Refreshments will be served.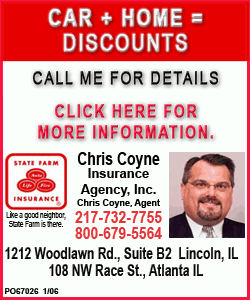 Lincoln experts have called this new book superb, richly detailed and an effective lesson in the importance of political networking. This is the perfect time to obtain a signed copy of Guy Fraker's new book just in time for Christmas giving. Further information regarding the author and his book is available at www.lincolnsladder.com.