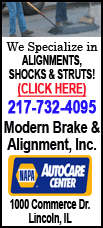 The company said production at the Cequent Performance Product plant, which makes hitches, weight-distribution systems, fifth wheels and other items, will shift to its plant in Reynosa, Mexico.
TriMas will also close a warehouse in Huntington, Ind., the company said. The moves will occur throughout 2013.
The Bloomfield Hills, Mich.-based company has about 4,500 employees.
TriMas added that it has been adding plants elsewhere to better support its customers in new locations, drive productivity and make its cost structure more efficient.