Main Street Lincoln presents Christmas parade and holiday fun in historic downtown Lincoln

Send a link to a friend
[November 17, 2012] Main Street Lincoln invites the public to enjoy historic downtown Lincoln throughout the holiday season. With the height of the holiday season fast approaching, downtown businesses are readying for shoppers.
Nov. 24 is nationally recognized as Small Business Saturday. This event falls between Black Friday and Cyber Monday and is dedicated to supporting small business in our communities. Shoppers are encouraged to continue their power shopping of Black Friday in downtown Lincoln, finding specials and bargains throughout.

On Nov 29, Main Street Lincoln and the city of Lincoln co-sponsor the annual Christmas parade. This year's theme is "Sending Holiday Greetings to Your Loved Ones" to honor the 100th anniversary of the Lincoln post office. Entries are being accepted through Nov. 23. The parade will kick off at 5:30 p.m. and take the same route as previous years. Prizes in many categories will be given. Following the parade, the Oasis Senior Center will host a chili and soup supper, along with craft items available, and Mr. Claus will be on hand for the children.

Throughout December, historic downtown Lincoln will be alive with the hustle and bustle of shopping and holiday cheer. Santa will make appearances throughout downtown Dec. 8, 15 and 22, with exact locations to be announced soon. Shoppers can enjoy the convenience and pride of shopping locally.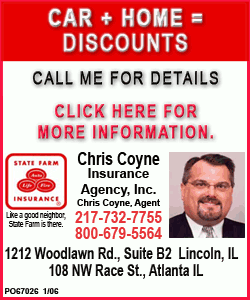 Main Street Lincoln, a volunteer-driven organization, is pleased to participate in the holiday shopping season, promoting our eateries, antique stores, thrift stores, one-of-a-kind shops, night life and entertainment, along with plenty of services and businesses.
For more information on any of these events, the Main Street Lincoln organization can be reached at 217-732-2929 or manager@mainstreetlincoln.com. Also, information and business specials are available online at https://www.facebook.com/MainStreetLincoln.