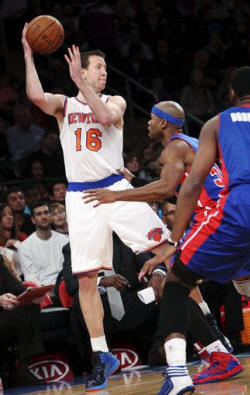 Knicks rout Pistons, end losing streak at 2 games

Send a link to a friend
[November 26, 2012] NEW YORK (AP) -- Carmelo Anthony scored 29 points in just 32 minutes, and the New York Knicks ended a two-game losing streak with a 121-100 victory over the Detroit Pistons on Sunday.
Steve Novak added a season-high 18 and JR Smith had 15 points and 10 rebounds for the Knicks, who started 8-1 and had the Eastern Conference's best record before a couple of defenseless performances in Texas spanning the Thanksgiving holiday. They were much better Sunday, improving to 5-0 at home.
New York takes the short trip to Brooklyn on Monday to face the Nets, a game that was postponed by Superstorm Sandy.
Brandon Knight scored 21 points and Charlie Villanueva had 17 for the Pistons, who have lost six straight games at Madison Square Garden.
The Knicks have been a much-improved defensive team under Mike Woodson but had a slipup in Texas, allowing 114 points in a loss at Dallas and then yielding 131 while getting blown out Friday in Houston.
They were much sharper Sunday, save for a few minutes where they seemed to ease up after building a 20-point halftime lead.
Rasheed Wallace scored 15 points against his former team, and Raymond Felton had 14 points and 10 assists as the Knicks beat the Pistons for the fourth straight time. Wallace was back after missing a game with a sore left foot.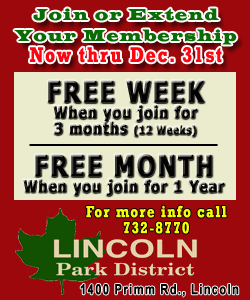 Anthony made four 3-pointers after hitting seven and scoring a season-high 37 in Friday's loss. He never needed to play in the fourth quarter, the Knicks blowing it open for good while he was getting his usual rest to begin the period.
The Pistons started 0-8 before winning three of their next five, but were back to being bad on Sunday. They committed 20 turnovers, leading to 33 points.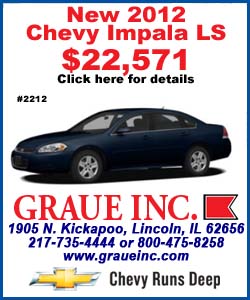 Anthony was 6 of 7 in the first quarter, hitting all three 3-pointers and scoring 15 points as the Knicks opened a 32-22 lead. The Knicks closed the first half with an 18-6 run, taking a 64-44 lead to the locker room. They got help from the Pistons, who turned it over 12 times in the half, leading to 19 points.
But the Knicks left their intensity behind when they returned for the second half. They slumped back to the bench for a timeout after Kyle Singler left Jason Kidd standing still on a baseline cut for a layup, capping a 13-3 spurt to open the third quarter that cut the deficit to 67-57. Detroit got within eight later in the period, but Novak hit a couple of 3-pointers and the Knicks were back up 86-72 after three.
New York finished it off with a 10-3 burst in the fourth, extending a 10-point lead to 98-81 on another 3-pointer by Novak.
NOTES: The next meeting between the teams will take place in London. They meet there on Jan. 17. ... Wallace, who played on the Pistons' 2004 NBA championship team (with Woodson as an assistant), still has a Detroit jacket hanging in his locker. ... Woodson said he had no update on Amare Stoudemire, who had left knee surgery on Oct. 31 and was expected to miss six to eight weeks.
[Associated Press; By BRIAN MAHONEY]
Copyright 2012 The Associated Press. All rights reserved. This material may not be published, broadcast, rewritten or redistributed.