Local Abraham Lincoln historians Paul Beaver, Ron Keller and Anne Moseley will have a panel discussion on the "Lincoln" film, beginning at 7 p.m. Wednesday, Nov. 28, at the museum, 300 Keokuk St. in Lincoln. This question-and-answer session will give moviegoers an opportunity to discuss and dissect the film. The event is free and open to the public.

The Lincoln Heritage Museum is located on the campus of Lincoln College, the only college named for Lincoln in his lifetime. The museum exhibits a rare and valuable collection of artifacts that tell the story of the life and times of Abraham Lincoln.

In 2008 Lincoln College broke ground for the Lincoln Center, a new multifaceted facility to feature a state-of-the-art museum, a physical fitness and health center, a spacious gymnasium, a multimedia classroom, and office space. The center opened in 2010, with the new museum being the final phase of the building project.

Lincoln College hired Taylor Studios from Rantoul to design and fabricate the museum. The design phase began in 2011, and the opening is to be in the fall of 2013.

The new museum will be on two floors, with approximately 4,000 square feet of exhibit space. That is approximately four times the space of the current facility. The heart of the new museum's storyline will be the Illinois story. The artifacts will remain front and center to telling the Lincoln story, but the new museum will feature more visual and interactive exhibits to draw the visitor in as much as possible. Another key component of the new museum will be the heavy integration of living history. Space will be reserved in several galleries, showcasing Lincoln at different periods in his life, for small audiences to "witness history" from these actors.

For more information, call 217-732-5476 or visit www.lincolncollege.edu/museum.
---

Harvest of Talents Christmas cookie walk Dec. 8
There will be a Christmas cookie walk on Saturday, Dec. 8, from 8 a.m. until 11 a.m. in the family room of the Lincoln Christian Church Fellowship Center. Sponsored by the Harvest of Talents for World Hunger, the event will feature homemade traditional holiday and bar cookies. Cookies will be available for purchase by the pound or arranged on decorative plates.
Georgia Vinson, who chairs the cookie walk, recommends taking them home for weekend entertaining or popping them in your freezer to prepare yourself for Christmas parties and last-minute holiday guests.
Cookie shoppers are invited to enter the Fellowship Center through the north canopy parking lot door.
All proceeds will become a part of the 2013 Harvest of Talents for World Hunger and will be channeled through International Disaster Emergency Service to meet hunger needs worldwide.
Anyone having questions about the cookie walk may contact Georgia Vinson at 732-9069.
---

Zion Lutheran live Nativity scheduled for Dec. 14 & 15
The annual Zion Lutheran Church drive-thru live Nativity is scheduled for Friday and Saturday, Dec. 14 and 15, from 6 to 8 p.m. The outdoor scene, portrayed by church members and live animals, is set to favorite Christmas hymns and presented on the grounds of Zion Lutheran School, 1600 Woodlawn Road in Lincoln, across from Wal-Mart.
No admission is charged, but nonperishable food items will be collected for the Lincoln/Logan Food Pantry.
---

HSLC extends order deadline for cookie trays
Order now to get your fancy Christmas cookies. The Humane Society of Logan County is having their annual Christmas cookie tray sale, with cookie pickup on Saturday, Dec. 8, from 9 a.m. until 3 p.m. at Graue Inc., 1905 N. Kickapoo.
Trays of three dozen, four dozen or five dozen may be ordered. Prices start at $15 for three dozen assorted holiday cookies.
Order in advance by calling 217-732-1979 to be sure they are available. Orders will be taken until Dec. 7.
At the same time, there will be a big bake sale: cakes, pies, breads, fudge, candy and more.
Help yourself by letting HSLC bake, and help the shelter that provides for dogs and cats in Logan County.
---

Elks will hold memorial service Sunday
The Lincoln Elks Lodge will hold their annual memorial service on Sunday, Dec. 2, at 3 p.m. in the Elks Lodge Ballroom.
The service each year honors the memory and lives of members lost during that year. This year, seven members will be remembered: John Pelc Jr., Clyde Camp, David McEntire, Edward Blair, Edward Malerich, Burke Miller and Dean Leith.
Families and friends of the departed are invited to attend the service and to remain afterward for food and fellowship.
---

Hospital gives thanks for Wombacher gift
The Abraham Lincoln Healthcare Foundation is thankful this holiday season for John "Jack" and Marilyn Wombacher and the Lincoln residence they have donated to the foundation.
For the Wombacher couple, donating their home was a matter of giving back to their community.
"We knew that our kids would not want the house, nor did they need the proceeds from the sale," the Wombachers said. "When we were asked to contribute to the hospital campaign, this just seemed like the right thing to do. And, it certainly worked well for us."
The home at 4 Forest Hills Drive was actually gifted to ALHF in December 2010 as part of the $5.5 million Preserve the Mission capital campaign. Through a life-estate arrangement, the Wombachers benefited from an immediate tax deduction of the home's market value and retained the right to live in the house as long as they wished.
The couple decided this summer that they would permanently move to Englewood, Fla., where they have kept a winter home for many years. On Sept. 19 they handed over the keys to their Lincoln home to Dolan Dalpoas, ALMH president and CEO, and Marty Ahrends, ALHF executive director. The Wombachers left Lincoln knowing they did not have the worry and work of preparing their house for sale.
The four-bedroom, 3 1/2-bath ranch-style home sits on a 1-acre lot overlooking the 16th fairway at the Lincoln Elks Country Club. It is listed for sale by Seth Goodman of ME Realty. Proceeds from the sale will help pay for construction costs of the new hospital.
ALMH named the community conference room in honor of the John Wombacher family and their generous gift. The Wombacher Room is located just off the hospital lobby and is a prime meeting location for ALMH committees, weekly blood pressure checks, health education seminars and other not-for-profit community groups.
IRS-qualified charities like the Abraham Lincoln Healthcare Foundation can accept many kinds of property gifts and provide donors with a sizable tax deduction based upon a current appraised market value.
"Life-estate gifts of property are a creative way to support your favorite charity," Ahrends said. "A great deal of individual net worth is tied up in occupied property or income-producing farmland. A donor may not have the cash or stock to achieve their charitable goals, but they can leverage their property to make a much larger gift than they ever dreamed possible.
"Property gifts are particularly attractive to donors who have no close heirs," Ahrends continued. "Often it is more rewarding for these donors to gift an asset to a favorite cause, rather than to will it to a distant relative who may not want to, or have the time to manage the property.
"ALHF is deeply grateful to the Wombachers for their generous gift," said Ahrends. "Long after their beautiful home has been sold, their legacy will live on every time a patient seeks care at ALMH."
For more information about the Abraham Lincoln Healthcare Foundation, contact Ahrends at 605-5006 or visit www.almh.org.
---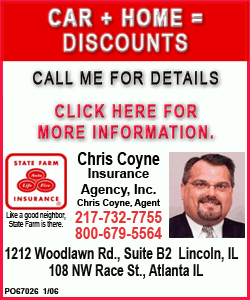 ---

Lincoln Jaycees Angel Tree project under way now

The annual Lincoln Jaycees Angel Tree is under way. The Angel Tree is a project to help the less fortunate children of Logan County. Tags with these children's names are placed on "Angel Trees" around the county. Employees or customers then pick a child from the names on the tree and buy them gifts. The Lincoln Jaycees distribute these gifts to the families in time for Christmas.

The public can find the Angel Trees at the following locations: Cracker Barrel, ALMH cafeteria, CEFCU, Blades Hair Salon, Illini Bank, Daisy's Hair and Nail Salon, and State Bank of Lincoln. Trees are also located at Eaton, Family Medical Center, Verallia, Sysco and International Paper for their employees.

Gifts need returned to businesses by Dec. 10.

The Lincoln Jaycees purchase gifts to go with any names not picked from the trees. If you would like to make a monetary donation, send it to: Lincoln Jaycees, P.O. Box 254, Lincoln, IL 62656.

Gift pickup will be at the Lincoln Jaycees Center, 325 S. Chicago St., on Dec. 15, 9 a.m.-noon and 1-4 p.m.

The Lincoln Jaycees are a not-for-profit organization serving Lincoln and the surrounding communities. The Lincoln Jaycees give young people between the ages of 18 and 40 the tools they need to build the bridges of success for themselves in the areas of business development, management skills, individual training, community service and international connections. Membership meetings are on the third Thursday of each month at 7 p.m. at the Lincoln Jaycees Center, 325 S. Chicago St., and are open to everyone.
---

Main Street Lincoln presents Christmas parade and holiday fun in historic downtown Lincoln

Main Street Lincoln invites the public to enjoy historic downtown Lincoln throughout the holiday season. With the height of the holiday season fast approaching, downtown businesses are readying for shoppers.

Nov. 24 is nationally recognized as Small Business Saturday. This event falls between Black Friday and Cyber Monday and is dedicated to supporting small business in our communities. Shoppers are encouraged to continue their power shopping of Black Friday in downtown Lincoln, finding specials and bargains throughout.

On Nov 29, Main Street Lincoln and the city of Lincoln co-sponsor the annual Christmas parade. This year's theme is "Sending Holiday Greetings to Your Loved Ones" to honor the 100th anniversary of the Lincoln post office. Entries are being accepted through Nov. 23. The parade will kick off at 5:30 p.m. and take the same route as previous years. Prizes in many categories will be given. Following the parade, the Oasis Senior Center will host a chili and soup supper, along with craft items available, and Mr. Claus will be on hand for the children.

Throughout December, historic downtown Lincoln will be alive with the hustle and bustle of shopping and holiday cheer. Santa will make appearances throughout downtown Dec. 8, 15 and 22, with exact locations to be announced soon. Shoppers can enjoy the convenience and pride of shopping locally.

Main Street Lincoln, a volunteer-driven organization, is pleased to participate in the holiday shopping season, promoting our eateries, antique stores, thrift stores, one-of-a-kind shops, night life and entertainment, along with plenty of services and businesses.

For more information on any of these events, the Main Street Lincoln organization can be reached at 217-732-2929 or manager@mainstreetlincoln.com. Also, information and business specials are available online at https://www.facebook.com/MainStreetLincoln.
---

Elkhart Historical Society announces December events

ELKHART -- Elkhart Historical Society's annual Candlelight Chapel Service at St. John the Baptist Chapel will be on Saturday, Dec. 1, at 2 p.m., 4 p.m., 5:30 p.m. and 8 p.m.

Dining options are available before or after the services:

Make your service reservations by calling 217-947-2238; then go to the Elkhart Historical Society website, www.elkharthistoricalsociety.org, and download a reservation form, or stop by Horsefeathers in Elkhart to pick up a form. Reservations are limited.

Dinner reservation forms are also available at www.elkharthistoricalsociety.org.

On Friday, Dec. 7, at 7 p.m., the Elkhart Historical Society will present a book signing for "Lincoln's Ladder to the Presidency: The Eighth Judicial Circuit" at Horsefeathers in Elkhart. Refreshments will be served.

Lincoln experts have called this new book superb, richly detailed and an effective lesson in the importance of political networking. This is the perfect time to obtain a signed copy of Guy Fraker's new book just in time for Christmas giving. Further information regarding the author and his book is available at www.lincolnsladder.com.
---

City of Lincoln leaf pickup dates announced

The city of Lincoln will provide leaf pickup services for residents again this year. Pickup days will be by ward and will run beginning next week through Dec. 3.

Only biodegradable bags of leaves will be picked up. Bags must be at the curb by 7 a.m. each day.

Leaf pickup dates:
Ward 1 -- Oct. 29, Nov. 9, Nov. 21

Ward 2 -- Oct. 31, Nov. 13, Nov. 26

Ward 3 -- Nov. 2, Nov. 14, Nov. 28

Ward 4 -- Nov. 5, Nov. 16, Nov. 30

Ward 5 -- Nov. 7, Nov. 19, Dec. 3
For those who wish to bring their leaves directly to the landscape waste facility, it is currently open Monday through Saturday from 8 a.m. until 3:50 p.m. for all landscape waste. This will continue until Nov. 21.

On Nov. 24 the facility will return to regular hours: Wednesday and Saturdays, 8 a.m.-3:50 p.m.
---