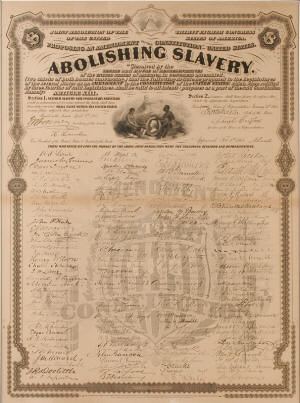 13th Amendment engraving on exhibit at Lincoln Heritage Museum in conjunction with 'Lincoln' film

Send a link to a friend
[November 27, 2012] In conjunction with the recent release of the Steven Spielberg film "Lincoln," which focuses on Abraham Lincoln's push to have Congress approve the measure ratifying the 13th Amendment, ending slavery, the Lincoln Heritage Museum is exhibiting a one-of-a-kind engraving that commemorated the end of slavery.
In January 1865, the United States Congress, with President Lincoln's encouragement, initiated passage of the proposed 13th Amendment -- which then went to the states for formal approval -- forever abolishing slavery from the country. Fiery debates ensued in Congress over its passage, as is depicted in the movie "Lincoln."

The very rare engraving owned by the Lincoln Heritage Museum bears the names of the 156 members of the U.S. House of Representatives and U.S. Senate who voted for its passage. For many, such a vote cost them their political futures.

Among the names of those who voted for the resolution are notables such as Massachusetts Sen. Charles Sumner, Illinois Sen. Lyman Trumbull, Pennsylvania Rep. Thaddeus Stevens and Ohio Rep. James A. Garfield, who later became the 20th president of the United States. The engraving also includes the name of Abraham Lincoln, who is the only president to have ever signed on a constitutional amendment.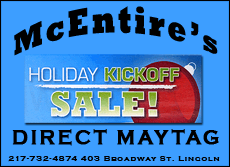 The 13th Amendment was ratified on Dec. 18, 1865, with approval by the required three-fourths of all states.
President Lincoln signed the amendment before its ratification -- a step that wasn't required by the Constitution. Presidential approval was not necessary for an amendment to be submitted to states for ratification.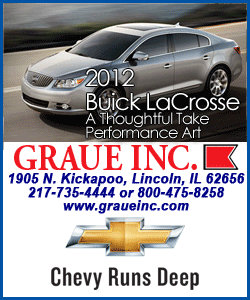 With the eventual approval of the 13th Amendment, slavery was abolished and eliminated forever. Lincoln had worked hard for many years to end the institution of slavery, and in doing so he obtained freedom for many people.
Lincoln was assassinated in April of 1865, eight months before the final approval and overall ratification of the 13th Amendment. He enjoyed knowing that the final death knell to slavery would come, and he considered the amendment "the king's cure for all the evils."
Also in conjunction with the movie "Lincoln," the Lincoln Heritage Museum will host an opportunity to discuss and explore the movie's historical merit and accuracy with local historians Paul Beaver, Ron Keller and Anne Moseley. The panel discussion will be on Wednesday at 7 pm. The public is invited and the event is free.
The lithograph is currently on display at the Lincoln Heritage Museum, 300 Keokuk St. The museum is open from 9 a.m. to 4 p.m. Monday through Friday, and 1-4 p.m. on Saturdays. Admission to the museum is free.
[Text from file received from Lincoln College]