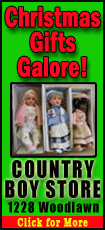 District Governor Nayamatullah Khaliqi said Thursday that the blast occurred late Wednesday and that most of the dead were women and children. He had no other details about the casualties from the blast near the village of Dehzak in the Dehra Wood district. All the victims were in a minivan that drove over a bomb.
Insurgents regularly plant roadside bomb to target NATO forces, but the devices often kill civilians. Roadside bombs have killed a total of 16 people since Tuesday.
Copyright 2012 The Associated Press. All rights reserved. This material may not be published, broadcast, rewritten or redistributed.