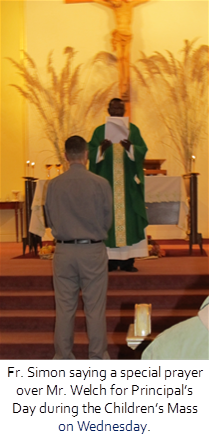 Carroll Catholic observes National Day of Appreciation for Catholic school principals

Send a link to a friend
[November 17, 2012] Each year the National Catholic Educational Association sponsors a National Day of Appreciation for Catholic school principals. The traditional day for this observance is the Thursday before Thanksgiving. This year the day of appreciation was Nov. 15.
Carroll Catholic had a wonderful opportunity to acknowledge the contribution of Mr. Welch and to say "thank you" for all the time and energy he devotes to the school. It is also always nice to surprise the principal with gifts throughout the day. So each classroom invited Mr. Welch to join them for a period of time on Thursday.

See the attached document for pictures and descriptions of his visits to the classrooms.
[Submitted by Jennifer K. Craig, school secretary and assistant athletic director, Carroll Catholic School]