Park district notes
From Roy Logan, program coordinator

Send a link to a friend
[November 13, 2012] The Lincoln Park District's 18th annual Pride of the Prairie Folk Art and Craft Show is just around the corner. This juried show features some of the area's finest artisans and craftsmen. The exhibitors are chosen for the quality and design of their work. The event features primitives, folk art, watercolors, quilts, iron sculpture, fiber art, country collectibles, jewelry, baskets, rag rugs, handmade soap, floral arrangements and much more. This is an excellent source for personal and unique gifts for the upcoming holiday season. Come down on Saturday, Nov. 24, 8 a.m.-3 p.m.
The park district is planning a bus trip to the Galleria Mall in St. Louis. Join the group on Friday, Nov. 30, as the bus leaves the park district at 8 a.m. The plan is to be back around 8 p.m. Registration is required and is on a first-come, first-served basis. There is limited seating and others will be put on a waiting list. Anyone is invited to come along, and it is not limited to Lincoln residents. Feel free to bring snacks, a magazine or your iPod. Meals will not be provided. Spaces are still available.

Don't be a chicken, take the "Turkey Challenge." Instructors Jacki and Danita invite you to join them for a pre-Thanksgiving workout. Save Wednesday, Nov. 21, at 5:30 p.m. on your calendars. This class is free to all Fit Zone members and $4 for nonmembers. The class will consist of 30 minutes of interval training, 30 minutes of kickboxing and 30 minutes of hard core abs. Jacki and Danita promise to make this fun, as well as an effective workout. Remember, don't be a chicken, challenge yourself. Also, all fitness classes are canceled for Thursday, Nov. 22, and Friday, Nov. 23. Classes will resume as normal on Saturday and Sunday. You are also invited to try the new Hula Cardio Dance class on Sunday afternoons at 3.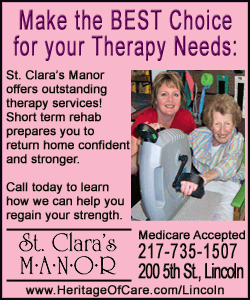 Treats with Santa will be on Saturday, Dec. 1, from 9 to 11:30 a.m. at the Lincoln Park District. Meet the real Santa who already knows if you've been bad or good. The park district has done this for a number of years with CITV5 and looks forward to offering this tradition of Santa that just doesn't exist in a mall-type event. There will be a coloring contest, Christmas games, and milk and treats, too. This will be aired on CITV5 and on their website as well.
[Text from file received from Roy Logan, Lincoln Park District]