(Copy of questionnaire responses)
How many employees: 1
Facebook page:
http://www.facebook.com/
LloydLunas
How long have you been a Chamber member?
4 months
I joined the Chamber because…
To promote business, and learn about other business
Why did you decide to invest in Logan County?
Well kept town, nice people. Have shopped in Lincoln for everything growing up.
What products and services do you offer to Logan County?
Seasoned décor, handbags, scarves, furniture, dog treats/toys/beds. Home scented oil warmers, specialty bath salts and cleansing products.
What does the future of your business look like?
Looking at continuing the same practice but also incorporating Made in the USA jeweled/bedazzled clothing and accessories.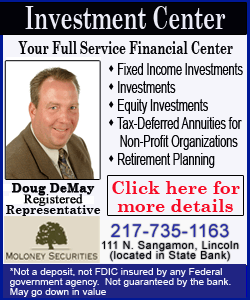 Five "Did you know?" facts about your business:
Also have a not for profit thrift shop in Clinton, by the name of Lighthouse.

We mostly go to tradeshows instead of ordering from somewhere. This allows us to mark out prices cheaper for the customers.

We do custom orders and always welcome a person looking for a specific item that we might be able to look for.

The furniture that's made by "Keeping up with the Joes" is old furniture turned into something new, and is made in Clinton, IL.

We will be carrying Marc Roberts, Thomasville and Uttermost items starting in 2013.
Contact person: Ryan Holland, phone 217-620-7059
[Text copied from file received from the Lincoln/Logan County Chamber of Commerce]