[October 01, 2012]

Send a link to a friend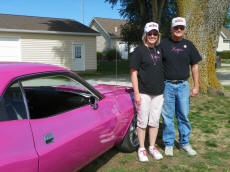 Pam and Jim Sampson stand beside "Miss Pink," a 1970 Dodge Challenger that was built as a tribute to their neighbor and friend Sue Voges. Voges was an Illinois State Police trooper living in the small community of Ogden when she found out she had breast cancer. She fought the disease valiantly for several years before it finally won the battle over her body. But it never beat her spirit, and that was what her husband, Tim, also in law enforcement, wanted everyone to know. He chose to build this special tribute to her to show his love and admiration for his wife and to draw attention to breast cancer.
Jim Sampson, a self-acclaimed "gearhead," was heavily involved in the project. He said the car came to him as a piece of junk. Since Sampson had experience in rebuilding cars, Tim Voges asked him to help put Miss Pink on the road. Sampson said they worked on the car for five months, but not alone. A group of friends of Tim and Sue Voges, most of whom were in law enforcement, spent many a night and weekend in the Sampson garage fine-tuning the vehicle into what it is today. The body of the car was taken to a professional for a "rotisserie restoration." The car is painted a beautiful pink with a lavender ghost stripe and breast cancer ribbon on its side panel. The interior has white seats with pink ribbons and the word 'hope" on them. The motor also has "hope" painted on the air intake.
After Sue died, Tim felt he needed to move on and he wanted the car to move on too. He asked Pam to buy the car and continue showing it in the name of breast cancer awareness, and she did. Today the Sampsons take the car to as many events as they have time for, and they tell the story of Sue and Tim.
Jim Sampson said the story always touches people. He recalled one particular time when he was telling the story to a young woman, and when he was done she said, "I hope someday I can find that kind of love."
The Sampsons had Miss Pink at Gail's Pumpkin Patch Sunday afternoon as a part of the breast cancer awareness day the business was observing in conjunction with the Logan County Department of Public Health.
Pictures by Nila Smith