[October 01, 2012]

Send a link to a friend
It was a very fine day on Saturday as approximately 600 volunteers headed out into the community to do service projects. The mild, 70- to 80-degree sun-filled day couldn't have been much better for those performing outdoor work.

Now in its fifth year, Together for Lincoln is a combined effort of more than 15 area churches reaching out to share the love of Jesus Christ. TFL coordinates people needing a little hand with their home and those who would like to lend a helping hand.

Approximately 100 projects were on the docket this year, including weatherization, painting, basic electrical and plumbing repairs, and ramp construction. Food drives to supply local pantries were also conducted at Kroger, Wal-Mart and IGA.

[LDN]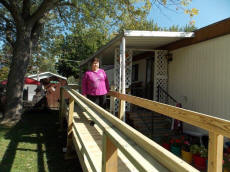 Linda Hughes was glad for her new wheelchair ramp. Hughes' legs are getting weaker. She now uses a scooter to get around for shopping. The rails and ramp make it safer for her to walk, and the ramp will be there for chair use if she needs it.
A crew with over 50 ramps under its belt arrived early in the day, and with this being one of the relatively simpler ramps, was gone by early afternoon, with most of the workers
moving on to help others.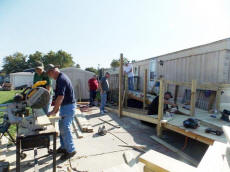 At another location this busy six-man crew drew the short straw with a challenge to design a ramp that had to go up 32 inches. Ramps are built to Americans with Disabilities Act specs that state for every inch of height, the ramp must be 1 foot long. If it were built straight, the 32-foot ramp would have extended into the road.

Working steadily are Lloyd Moore, Jerry Langenbahn, David Riggs, Jeff Hoinacki, Jim White and site leader Josh Riggs.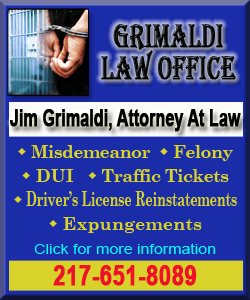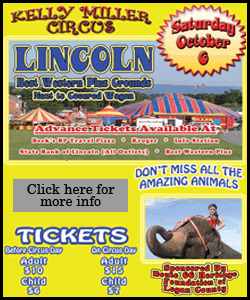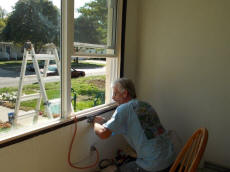 Rollie Milehorn installs an insulated front picture window at the home of Jason and Tara Snyder.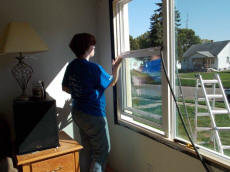 There was a lot of caulking in the process. Tara took on that task and was doing a great job of it. Jason served as Milehorn's right-hand man.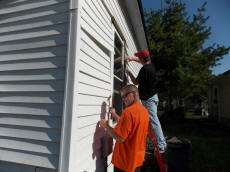 This home received three of over 100 windows that were installed on Saturday. Site leader Matt Fish and Phillip Jones work on one side of the home.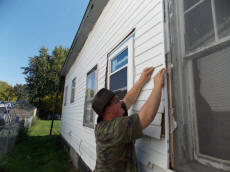 David Carter works on the other side of the home, realigning and attaching siding around a new window.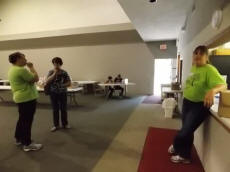 At the Jefferson Street Christian Fellowship Hall, Koni Lovett takes a breath after overseeing more than 400 lunch deliveries for volunteers. Lunches were provided by sign-up. Some site crews sent someone to pick up their lunches at the church, and others requested delivery to their site.
A united worship service was then celebrated at 7 p.m. Sunday at the Lincoln Christian University chapel.
A great weekend is capped as the praise team leads in worshipping God together.