Fall archery season for deer and turkey open throughout Illinois

Send a link to a friend
[October 02, 2012] SPRINGFIELD -- With the archery season for fall deer and turkey open as of Oct. 1, the Illinois Department of Natural Resources is reminding all hunters to make safety a top priority when in the field this year.
While hunting is one of the safest forms of outdoor recreation, thanks to the diligence of law-abiding and safety-minded hunters, incidents do happen. Last year in Illinois, there were 26 hunting incidents, one of them fatal. There have been six hunting incidents reported in the state so far in 2012.

"Whether in a blind or a tree stand, it is crucial that hunters are acutely aware of their surroundings, including fellow hunters. Never take a shot without knowing what is beyond your target, and always use the proper working equipment when ascending or descending from a tree stand," said IDNR Director Marc Miller

Of the 14 incidents reported in 2011 that did not involve discharge of a firearm or bow, 13 of them were tree stand falls. If hunting from a tree stand, make sure you are using a full body safety harness, also known as a fall arrest system or FAS.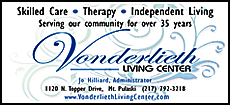 This year the seven-day firearm deer season begins Nov. 16-18 and continues Nov. 29-Dec. 2.
Last year, firearm deer hunters in Illinois took a preliminary total of 97,760 deer during the seven-day firearm deer season, which was Nov. 18-20 and Dec. 1-4. The 2011 preliminary firearm season harvest total compares with 98,944 deer taken during the 2010 firearm season.
The legal hunting hours for the firearm deer season are a half-hour before sunrise to a half-hour after sunset.
Illinois law requires that anyone born on or after Jan. 1, 1980, successfully complete a hunter safety course before a regular Illinois hunting license is issued.

The No. 1 cause of hunting accidents in Illinois is falling from a tree stand.
When using a tree stand, remember the following:

Check ladder stands before climbing to make sure they are secure.

Wear a fall arrest system or full body safety harness when leaving the ground until returning to the ground from the tree stand.

Use a haul line to raise and lower your equipment and unloaded firearm or bow into a tree stand.

When hunting with a firearm, sportsmen should remember three primary rules of firearm safety:

Know your target and what is beyond your target.

Point the muzzle in a safe direction.

Treat every firearm as if it were loaded.
[Text from Illinois Department of Natural Resources file received from the Illinois Office of Communication and Information]