[October 03, 2012]

Send a link to a friend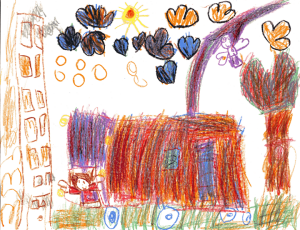 Tuesday morning Gianna Massena stood outside her home with dad Ben, mom Olivia and little brother Luca, anxiously awaiting the arrival of the big red rig of the Lincoln Fire Department.
When the fire truck pulled up to the curb, the entire family was really excited about Gianna getting to ride to school with the local fire department.
Assistant Chief Darren Coffey and inspector Bret Tripplett manned the truck. They spent a few minutes getting acquainted with their passenger, then swept her up, and with lights and sirens going full force, they drove her to Carroll Catholic School.
Gianna entered this year's fire safety poster contest sponsored by the Lincoln Fire Department, and of all the kindergarteners in the city, she won first place, thus winning the ride to school in the fire truck.
Tripplett, who heads up the poster contest event for the fire department, said that he most enjoys the ride to school. He said the kids are always excited about getting to ride in the fire truck.
Gianna was all smiles all the time. When asked if she was excited about getting to do this, she didn't have many words, but she offered some very sweet smiles and nods of the head.
Pictures by Nila Smith