(Copy of questionnaire responses)
How many employees: 17
Website link:
How long have you been a Chamber member?
3 years but not sure how long the previous owners were members
I joined the Chamber because…
We believe in supporting business growth and success.
Why did you decide to invest in Logan County?
To provide employment and preserve the historic downtown business district.

What products and services do you offer to Logan County?
Family and business dining at a reasonable price.
What does the future of your business look like?
We have expanded our seating capacity by adding a third dining room. This also provides our customers a private party or meeting room. To accommodate the expansion, we have added a new and much larger kitchen.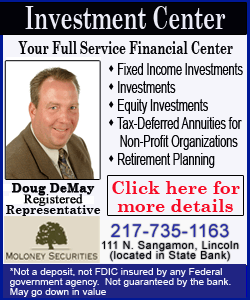 "Did you know?" facts about your business:
Established in 1890 as both a restaurant and hotel

We are in the Courthouse Square Historic District. Ten disastrous fires (1870-1878) left few buildings remaining from the era 1853-1880.

Building materials include brick, limestone, terra-cotta, stucco, and frame.
Contact person: Barb Blackburn, phone 217-735-1743
[Text copied from file received from the Lincoln/Logan County Chamber of Commerce]