[October 08, 2012]

Send a link to a friend
The animals took it easy during the morning hours, but in the afternoon they had work to do, entertaining a large audience for the first show of the day.
Pictures by Nila Smith
The camels accompanied the zebra in its performance.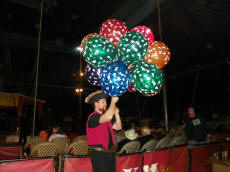 Between sets, bags of peanuts were sold, with special tickets in some of them.