Park district notes
From Roy Logan, program coordinator
Send a link to a friend
[October 09, 2012] The Lincoln Park District's second annual Fall Family Run will be on Oct. 20. This will be a 5K run-walk or a two-mile walk. This is "fun run-walk" to promote family fitness and a healthy lifestyle. There will not be a "chip" time, but there will be a race clock at the finish. Prizes will be awarded for the first male and female runner in the 5K. The registration fee this year is $20 per participant for the 5K run-walk. For the two-mile walk, the cost is $15 per family of four and $2 for each additional family member. Preregistration is encouraged, but forms will be available the day of the run. Check-in will be from 7:30 to 8:30 a.m. The morning will start off with an energizing cardio warm-up at 8:30. The run-walk will start at 9 a.m. After the event, water and snacks will be provided, and awards will be handed out. Family and group photos, awards, and much more will be offered for this fun family time.
The park district's Halloween Home Decorating Contest is being offered again. Be scary, funny or creative in competing with other Lincoln residents. All you have to do to register your outdoor decorations is stop at the front desk or email info@lincolnparkdistrict.com. Sign up by Oct. 22, and judging will be after dark on Oct. 23. This event is free, and winners will receive a Little Caesars Full Meal Deal; plus, first place will get a one-year family full-access membership, second place a six-month family full access, and third place will be a three-month family full access. Previous first-place winners will not be eligible.

Join the fun downtown on Oct. 27 with Halloween on the Square. The park district will offer four different activities for children and adults as well. The park district teams up with the city of Lincoln and Main Street Lincoln to give you Trick or Treat with Mayor Snyder, a Costume Parade, Trunk or Treat and The Great Chili Taste Off. Participate in all of the fun or simply pick and choose what you think your family would enjoy the most.

Trick or Treat with Mayor Snyder will start from Latham Park, with registration for door prizes beginning at 3 p.m. Plan to walk to each participating business, starting at 3:30, and fill your bag with goodies. Prize drawings will be at City Hall following the trick-or-treating. If you have questions, call Main Street Lincoln at 732-2929.

Following the prize drawings, be a part of the first-ever Costume Parade on the square. Participants will line up in the Arcade, and the parade route will go around the square. Invite your family and friends to come see you star in the parade.

Trunk or Treat will be on Pulaski and McLean streets beginning at 4:30. It's fun and simple. All you have to do is come downtown, park, decorate your trunk, bring lots of candy, and hand it out the youngsters who just want to have a great Halloween. Individuals, businesses and organizations can participate. Cars may park beginning at 3:30 and be ready for the kids by 4:30. Trunk or Treat provides a safe environment for families to enjoy an inexpensive Halloween atmosphere. Costumed children trick-or-treat by going from trunk to trunk to get their bag filled with goodies. Kids and parents are invited to make their way around the Trunk or Treat to enjoy the free treats, games and fun. There is no charge for participating vehicles, but the participants are urged to preregister at the Lincoln Park District, 732-8770 or info@lincolnparkdistrict.com, so that parking spaces can be saved for everyone.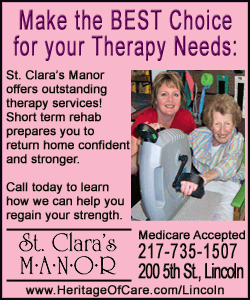 With all this fun for the kids, the park district just had to do something for the adults too. Look around the Farm Bureau building on McLean Street for The Great Chili Taste-Off. Red or white chili will be served from 4:30 to 7 p.m. for $2 per 12-ounce bowl. Proceeds will be donated to local food pantries. Free hot dogs will be provided by the Farm Bureau Young Leaders from 5 to 7 p.m., and Sorrento's has generously offered to provide free sodas too.
If you have questions about Halloween on the Square, feel free to contact Lincoln Park District.
Save Oct. 30 for the 30th annual Halloween FunFest. Hosted on the indoor courts at the Lincoln Park District, this frightfully fun event kicks off at 6:30 p.m. Trick-or-treaters up to fifth grade are welcome to enjoy the games, prizes and candy with their families. There will be costume judging with prizes and the opportunity to have pictures taken for a keepsake memory.
It is Junior Railer registration time already. Junior Railers is a basketball program for boys in first through sixth grades. Teams are divided by grades. Registration forms are available at the front desk at the park district. Cost for this program will remain the same. The fee for players residing in the Lincoln Community High School district is $45, and if there is an additional player in the same family, their cost is $25 per child. Registration will close on Nov. 4. Fliers will also be sent out from area schools.
With all the big plans for Halloween, the park district hasn't forgotten Christmas. The district is planning a bus trip to the Galleria Mall on Nov. 30. Anyone wanting to enjoy a full day of holiday shopping is invited. Registration is at the front desk and will be handled on a first-come, first-served basis. If necessary, others will be placed on a waiting list. Participants will leave the park district at 8 a.m. and return at 8 p.m. Feel free to bring snacks, a magazine or your iPod. Meals will not be provided.
[Text from file received from Roy Logan, Lincoln Park District]