When the doors open to the 29th annual Harvest of Talents for World Hunger, on Oct. 27 at 7 a.m., the event will include Harvest Fare, an area of the Harvest which in the past bore no official name.
In recent years the area has existed between the canopy entrance to the Lincoln Christian Church Fellowship Center and the parking lot. The name was officially chosen on recommendation of Tim Becke, Harvest Ministry Team member who oversees the outside area.
The 2012 version of Harvest Fare will include the ever-popular deep-fried potato chips, from both white and sweet potatoes; walking tacos, prepared and served by the staff of International Disaster Emergency Service, which receives the proceeds from the Harvest of Talents; Lincolnberry Prairie Café, featuring flavored coffees, scones and a variety of snacks, along with brisket and maple ham sandwiches; and the Potting Shed, a new booth offering a variety of plants and bulbs.
Becke commented, "We are anticipating new booths to be added to Harvest Fare in celebration of next year's 30th annual Harvest."
Craft areas in the Fellowship Center will feature hundreds of handmade items, many one-of-a-kind. Special areas include Yesteryear's Kitchen, with hundreds of jars of jams and jellies and a wide variety of baked goods; the Christmas Nook; Cottage Collectibles, with repurposed and shabby chic items; and Critters in the Garden. Other areas featuring goods and services are Ye Olde Sweet Shop, Blings 'n Things, Origami Creations, and henna designs and face painting. Gifts From Around the World will offer a wide variety of items from countries around the world, some of which have been the recipient of Harvest funds in past years.
Breakfast of homemade cinnamon and caramel pecan rolls will be served from 7 until 10 a.m. The luncheon menu includes homemade vegetable soup, barbecue sandwiches and homemade pies. Snacks will be available in Harvest Fare for Harvest shoppers or for those who just drop by Harvest Fare for tasty foods.
A 5K Harvest Run and one-mile fun run-walk will be hosted by the local YMCA and sponsored by several local business. The run will begin at 8:30 a.m. at the corner of Pekin and Hamilton streets. Early registrations are being accepted at the local YMCA office. For more information, contact the YMCA at 217-735-1915 or 800-282-3520, or visit www.lincolnymca.org.
In keeping with the Harvest's desire to be family-oriented, there will be special activities for children from 9 to 11 .a.m.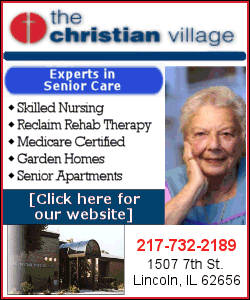 Auctions are a highlight of the Harvest of Talents for World Hunger, and this year there will be four. In the morning hours there will be two silent auctions in the Fellowship Center and one in Harvest Fare. The official Harvest Auction will begin at 2 p.m. Mike Maske Auction will be in charge of the sale, which will offer unique handmade quilts, fine needlework, woodworking, photography, repurposed pieces, small furniture and many one-of-a-kind items.
The items offered for sale on Harvest Day include a wide variety of quality handmade items suitable for gift-giving for birthdays, new arrivals and Christmas.
Every penny raised at the Harvest is used to meet hunger needs worldwide. No administrative costs are deducted. All proceeds from the Harvest of Talents will be channeled by International Disaster Emergency Service, a Kempton, Ind.-based Christian organization, to hunger victims worldwide.
The Harvest of Talents originated at Lincoln Christian Church in 1984. In the first 28 years, Lincoln's Harvest of Talents for World Hunger raised $1,636,092.89 to provide food for the hungry in 21 countries, including the U.S. This year the Lincoln church is joined in its mission by churches in Tennessee, Missouri, Indiana, Kansas and Illinois. The public is cordially invited to attend. Lots of parking space is available, the facilities are handicapped-accessible, and carryouts are available.
The next day all funds raised will be presented to International Disaster Emergency Service at a 10 a.m. Sunday celebration service open to the public in the chapel of Lincoln Christian University.
For more information, call 732-7618, email harvestoftalents@email.net or visit www.ides.org/harvestoftalents.html.