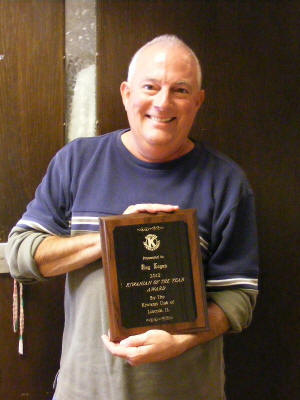 Roy Logan honored as Kiwanian of the Year
Send a link to a friend
[October 12, 2012] The Kiwanis Club of Lincoln installed new officers at a special evening meeting Tuesday at Lincoln College.
Dinner was prepared by Lincoln College chef Warren Wendlandt, and the LC Jazz Combo offered musical entertainment along with a comedy bit by a student.
Joe Haning served as president during the past year, and it is the privilege of the outgoing president to select the Kiwanian of the Year. Haning chose Roy Logan.
Haning said that Logan has been a hard worker. He has especially been there to help the group with food at fundraisers, including an Italian dinner of spaghetti. Logan added cavatelli this year, ham and beans, and the chili and oyster dinners.
The club had been meeting at Rusty's when it was learned one Monday that the business was closed for good. Logan quickly stepped up and made arrangements for the group to meet at the Rec Center and even provided the lunch himself with the help of Marcia Greenslate. Haning said that Logan had provided a couple of meals for the group.
Logan is always willing to help with a lot of things, "and," Haning added, "Roy is a very personable kind of guy."
K. Bridgett Schneider, the incoming president, said: "Roy is always a hard worker. He comes in and does what he needs to do and likes to do it without the spotlight."
Logan has been a Kiwanis member approximately 10 years.
For 2012-2013, new officers will be K. Bridget Schneider as president; Alyssa J. Schneider, president-elect; Tom Comstock, treasurer; and C. Wayne Schrader, secretary.
The local chapter is affiliated with the international organization, whose motto is "Serving the children of the world."
The name Kiwanis means "we trade" or "we share our talents."
The Lincoln Kiwanis Club hosts a number of fundraisers and sponsors service projects throughout the year. Committee chairmen include Mike Booher, Logan, Schneider, Marti Sawicki, Bob Sullivan, Tom Zurkammer and Schrader.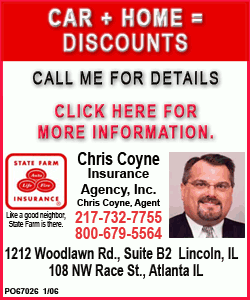 According to the chapter brochure: "When you give a child a chance to learn, experience, dream and succeed, great things can happen." Emphasis is placed on encouraging and developing youth leadership, as well as providing for children in the community.
Haning is the committee chair and adviser for the Builders Club. Junior high students conduct acts of service at school or bus tables at Kiwanis events.
Also stated in the Kiwanis mission is to help shelter the homeless, feed the hungry, mentor the disadvantaged and care for the sick.
Membership is open to any adult, male or female. The local chapter has about 40 members, with about 20 in attendance at its meetings each week. The group currently meets at the St. John United Church of Christ on Seventh Street in Lincoln, starting at about 11:30 a.m. on Tuesdays. Peggy's Place caters the lunch.
[By JAN YOUNGQUIST]