'Babe' comes to Atlanta Public Library
Send a link to a friend
[October 12, 2012] ATLANTA -- The Atlanta Public Library's popular Saturdays on the Lawn program will conclude on Oct. 13 with an outdoor showing of the movie "Babe." The family evening includes a wiener roast and other activities.
The event is free and runs from 6 to 9 p.m. It's an opportunity to kick off the fall season and learn about the programs planned this year at the library.

Popular with kids and enjoyable for adults as well, "Babe" is a comic fable about not fitting in and the lengths to which an ordinary pig will go to find acceptance -- even daring to be a sheepdog. Babe's approach to barnyard life is different than all the other animals, and he reminds us that life can be more challenging, but all the sweeter, for the pig who marches to the tune of a different drummer.

Join the group around the fire on the library lawn for an evening of family fun, games and good food. Bring your own lawn chairs and hot dogs. The library will provide sticks, buns, condiments, marshmallows and other goodies.

Saturdays on the Lawn is sponsored by grants from the Mirza Arts and Culture Fund of the Illinois Prairie Community Foundation and by the Jerome Mirza Foundation. The Atlanta Methodist Church is the lead sponsor of the Oct. 13 family event.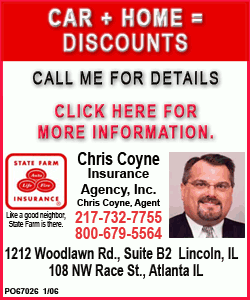 For more information, contact the library at 217-648-2112 or email apldinformation@gmail.com.