[October 13, 2012]
Send a link to a friend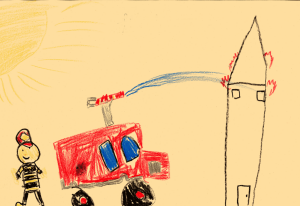 Friday morning Peyton Merreighn, a first-grader at Zion Lutheran School in Lincoln, was chauffeured to school courtesy of the Lincoln Fire Department.
Firefighters Chris Harding and Chad Kern arrived at Peyton's house at 7:45 in engine 5102. They loaded up Peyton, her brother Quentin and dad Josh and off they went to school, with mom Lisa following behind in the family van.
Peyton earned this special ride by submitting the best fire safety poster of all the first-graders in all the Lincoln schools.
Pictures by Nila Smith