[October 16, 2012]

Send a link to a friend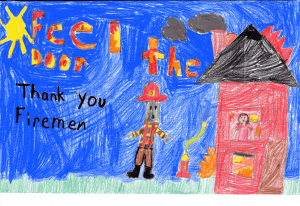 Monday morning it was Rachel Morrow's turn to be chauffeured to school by the Lincoln Fire Department. Rachel is the second-grade winner of this year's fire safety poster contest. The fire department puts on the contest each year.
However, Rachel was no stranger to the big red truck or the firefighters, as this is the second year she has been a winner in the contest. Last year Rachel won with the best poster of all the first-graders.
The fire truck arrived at Rachel's home shortly before 8 a.m. Firefighters Chad Kern, Phil Uphoff and Jason VanWinkle escorted Rachel and her brother Luke to Carroll Catholic School.
Because Rachel lives within walking distance to the school, the firefighters took her and Luke on a little jaunt around the neighborhood before dropping her off.
Rachel is the daughter of Greg and Peggy Morrow of Lincoln.
Pictures by Nila Smith